What to Watch, Read and Listen to This Fourth of July Weekend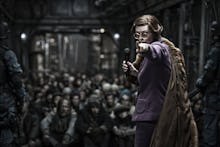 Thank you, Independence Day, for the gift of not only the United States of America, but also for the three-day weekend. When you're done with this weekend's barbecuing, boozing and patriotic merriment, there is also a world of cultural delights in which to indulge. Here's a guide for the can't-miss arts and entertainment delights to enjoy over the holiday weekend. 
This weekend's can't-miss movie: 
If you're looking for a smarter and slicker slice of cinema, don't fear: Snowpiercer, which has only just been released in the U.S., is a top-notch sci-fi action flick. Set aboard a train carrying all of humanity in a dystopian ice age, Chris Evans plays rebel proletarian Curtis who leads a surge of big name actors (John Hurt, Jamie Bell, Octavia Spencer) against the aristocratian leaders of the regime. The film also features a show-stealing Tilda Swinton as a Thatcherite Yorkshire woman with questionable orthodontics.
But what if I only have time for Netflix?
Totally fine! This month, Netflix added some belting new films including Sophie's Choice and, in a week or so, The Master. But for now if you just want to curl up for some streaming, Netflix has this month added the childhood classic Honey I Shrunk The Kids, the adaptation of Nick Hornby's football classic Fever Pitch and the beautiful Hollywood musical Funny Face. 
Wait, I just feel like a TV show …
Then use this chance to catch up on some of the cracking TV shows you should really know more about. Orange is the New Black's second season is still relatively new, and The Leftovers is only one episode in, so it shouldn't be hard to catch up on that. 
If you're looking for something freshly uploaded, take a look at the second season of Comedy Bang! Bang!, uploaded this month. It's a comedy podcast turned TV series that has featured just about every funny person you've ever loved doing ridiculous things. It's definitely worth a weekend binge. 
And how about a good read? 
The book of the moment is definitely Friendship by Emily Gould, the one-time chronic oversharer and Gawker doyenne. Think of it as a pointillist novel ripe with sharp, carefully curated observations about two women taking on their 30s. It's the talk of the Twitter-verse.
Alternatively, if you're looking for some thrilling crime noir, JK Rowling's — oh, sorry, Robert Galbraith's — Cormorant Strike novels are a great read. The Silkworm, the second, has already received some strong reviews.
Lastly, for some music:
For a feel-good summer hit that doesn't involve Iggy Azalea, try out the new song by Spoon: "Do You," or take some time to celebrate this being the summer of lady-lead R&B. FKA Twigs, Rosie Lowe and Mapei are begging to be your sun-marinated favorites.