The U.S. Has Been Secretly Involved in a War in Somalia for the Last 7 Years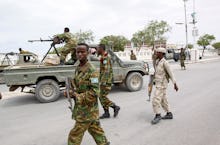 The news: The U.S. military sure can keep a secret. (For seven years, at least.)
The military has been operating in Somalia since 2007, with up to 120 troops on the ground, according to a Reuters scoop. The operatives are there to help the country deal with Islamist militant group al Shabaab.
The troops have not engaged in actual combat, according to Reuters, and instead are focusing on "mission planning, small unit tactics, medical care, human rights and communications" for the Somali National Army and African Union Mission in Somalia.
Image Credit: BBC
The background: The al Shabaab group has operated in Somalia since about 2006, carrying out murders, bombings and other attacks that have taken a toll on a country already racked by strife. The United States designated the group as a "foreign terrorist organization" in 2008, and in 2012 al Shabaab joined forces with al Qaida.
Officially, the Pentagon announced earlier this year that a team of military advisers had been sent to Somalia in October. This was thought to be the first U.S. military presence in the country since 18 troops were killed in the Battle of Mogadishu (later recounted in the book Black Hawk Down and the movie of the same name).
But, as we now know, troops had actually been in place since the Bush administration. They originally worked with the African Union Mission in Somalia, a force made up of more than 20,000 troops from Uganda, Kenya, Sierra Leone, Burundi, Djibouti and Ethiopia. After the U.S. military recognized the Somali government last year, American forces moved to assist the Somali National Army as well.
Military action: There have been occasions when other U.S. forces have done more than train soldiers and help with strategy in Somalia. An October raid was meant to capture al Shabaab senior commander Abdulkadir Mohamed Abdulkadir in the port town of Barawe, but it ended in retreat in less than an hour.
Image credit: The Guardian
The CIA has also been known to conduct operations in the country, according to Reuters.
So why go public with the information now? An anonymous State Department official told Reuters that, well, it just doesn't need to be a secret anymore.
"In the past, our assessment of the security situation in Somalia informed our decision to err on the side of force protection concerns and not divulge their presence," the official said. "We do not currently believe that acknowledging the U.S. presence will increase the already high threat to our personnel and citizens operating in Somalia."