That Controversial Facebook Emotion Study May Have a Troubling Government Connection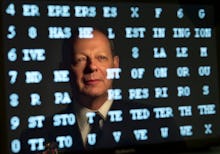 The news: The widespread outrage over the discovery that Facebook manipulated over 600,000 users' News Feeds to measure emotional expression is about to get a whole lot worse.
Several reports emerged on Wednesday that the study, "Experimental Evidence of Massive-Scale Emotional Contagion Through Social Networks," could be linked to the Department of Defense (DoD).
Image Credit: AP
Word has spread that the controversial research is connected to the Pentagon's Minerva Research Initiative, which, according to SGCNews, "funds universities to model the dynamics, risks and tipping points for large-scale civil unrest across the world," through one particular researcher.
Image Credit: AP
Professor Jeffrey Hancock of Cornell University was part of the Facebook study and has been highlighted as a recipient of previous Minerva funds for a study he conducted titled, "Cornell: Modeling Discourse and Social Dynamics in Authoritarian Regimes."
However, the money trail stops there. Though the Army did not directly fund the Facebook study, which was published in 2012 by Cornell, Facebook and UCSF did look at it, reports Mashable. An Army spokesperson confirmed that the proposal for the emotion-manipulation study was sent to them back in 2008.
Cornell initially stated in a press release on June 10 that they had received funding from the Army Research Office, which funds "a huge amount" of research projects. But the university rescinded that statement a month later to clarify that they had not received external funding. Therefore, the direct connection of the government's involvement in the Facebook study is conjecture at best. 
Has the U.S. government gone 2.0? The government knows that social media is not only contagious, but also has the incomparable ability to mobilize social movements or protests, or spread propaganda — both helpful and harmful. The DoD's Minerva Initiative studies civil unrest and often funds projects that look at why and how people mobilize for change that is both peaceful and violent.
While there is no immediate relation between Minerva Initiative's projects and the Facebook emotional expression study, the scope of the Minerva Research Institute's work shows that the Pentagon is taking an interest in the power of social media and its many effects on people.
And Cornell's backpedalling on the Army's involvement in the Facebook study exacerbates a conspiracy theory that Facebook is helping the government to militarize social media. For right now though, these are merely studies, and we should consider their results at face value, whether they're funded by the U.S. government or not.