Everything We Know About 'Batman v Superman: Dawn of Justice'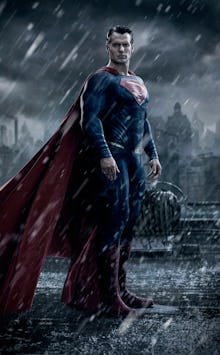 Batman v Superman: Dawn of Justice won't be released for nearly two years, but the buzz around the film is already mounting.
The coals of that excitement were stoked on Friday, when another picture of Henry Cavill in full Superman regalia surfaced. One small step for fans, one giant step for fan excitement. 
In light of the Batman v Superman furor, we've rounded up everything we know about the upcoming flick in one place. Let the two year countdown begin.
The Cast 
The must-know basics are that Batman and Superman are together in one movie. Same movie. Together. Many Man of Steel alumna are returning to flesh out the Superman side of the cast: Amy Adams as Lois Lane, Laurence Fishburne as Clark and Lois' editor Perry White, and Diane Lane as Clark Kent's adoptive mother Martha. 
Then, of course, Batman is changing hands to the much-maligned Ben Affleck. His butler, Alfred Pennyworth, has metamorphosed from Michael Caine into Jeremy Irons.
Image Credit: Clay Enos/Warner Bros/Screenrant
Other cast members include, Holly Hunter as a U.S. senator and Tao Okamoto as Mercy Graves. Mercy, who was introduced into the DC animated universe as a sardonic, kickboxing thief who Lex Luthor took a shine to, will continue her now comic-accepted role as Luthor's secretary and Harley Quinn's sometime rival (Quinn has not been announced to appear in Batman v Superman). 
 Credit: Jerome K Moore/Deviantart
Additionally, actors Ray Fisher and Jason Momoa — aka Khal Drogo — are all but confirmed to have brief cameos as superheroes Cyborg and Aquaman.
The biggest non-title role casting decisions — and the most controversial — have been for the roles of Wonder Woman and Lex Luthor. Gal Gadot, a regular in the Fast and the Furious film franchise and former Miss Israel, will play Amazonian monarch, Diana Prince. Gadot is currently in training and has not started filming except for a few brief scenes shared on twitter. 
Jesse Eisenberg was the unlikely selection for bald Machiavellian mortal Lex Luthor, and reactions to the casting have been mixed:
Also, now Jess Eisenberg is playing Lex Luthor I'm gonna assume #TheSocialNetwork is a prequel for his character.
The Look
Director Zack Snyder has already formed his aesthetic for the DC Universe with Superman: Man of Steel, and his work in graphic novel and comic adaptations has always been marked by several important qualities: drab colour palettes sometimes punctuated by a signature color (red in 300, or yellow in Watchmen), a lot of slow-motion and a gruelling attention to detail from the canon. Watchmen was, for better or worse, often a frame-by-frame recap of the comic book. Snyder both loves cartoon material and paying homage to the iconic images fans love.
More worryingly, Snyder's movies very rarely fare well critically and the above qualities are often condemned as creating languorous or indulgent movies. But as long as he does better than Sucker Punch, I think we're all good.
Notably, Batman v Superman is being filmed in Detroit. Probably partially because there are excellent incentives for filmmakers to use the city for film locations, the decision might also be a distinct aesthetic choice. 
The Plot
Details of the plot for Batman v Superman: Dawn of Justice are still incredibly vague, and Snyder (who also directed Man of Steel) has spent more time discussing semantics than theatrics. We don't yet know how Batman and Superman find themselves in the same place or what their relationship is, but know this movie will be followed by a Justice League feature, which suggests they will be allies at the very end at least. 
Snyder commented on their companionship to USA Today, "suffice it to say there is a 'v' in between their names." The decision was made against using vs. "to keep it from being a straight 'versus' movie, even in the most subtle way."
Batman's inclusion is well thought-out, he says. "I was in no rush to put Batman in the movie," Snyder said in an interview attached to the new image of Cavill "but on the other hand it seemed organic the way our story was unfolding to start to feather him in." Further, very few Batman universe characters will be appearing in the movie, suggesting that Bruce Wayne is coming to Metropolis.
Wonder Woman's role is still up in the air, but even if we don't get a lot of her in this movie, she's already signed on for a Justice League movie and a Wonder Woman film in 2017. The cameos of Cyborg and Aquaman suggest the potential for a proto-justice league formation at the movie's end. Beyond that, anything could happen. But if they're going to try to compete with the Marvel movie machine, it will have to be a crazy epic.
The Release Date
May 6, 2016. Let the waiting game officially begin.