A Dutch Court Just Made a Big Statement on Racism — and the Rest of the World Should Follow Suit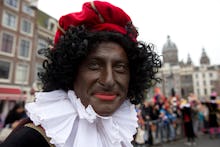 The Netherlands might be giving one of its long-running traditions a makeover, for a very good reason. 
During parades celebrating Christmas, crowds are peppered with revelers in blackface, who are dressed up as Zwarte Piet, or "Black Pete", the dumb, servile sidekick of Santa Claus, according to Dutch folklore. 
While some might argue that the practice is nothing more than a harmless tradition, a Dutch court ruled on July 3 that Amsterdam should reconsider allowing the controversial figure in its parades, since it reinforces negative stereotypes of black people. 
Image Credit: AP. A man holds up a pamphlet during a demonstration against Zwarte Piet.
It's an important and symbolic step, that shows that there's absolutely no excuse for blackface — including tradition. Sadly, it's a "tradition" that takes place in many countries in the world. If you need evidence that this is a worldwide problem, look no further than the World Cup. 
When Germany and Ghana faced off on June 21, a dozen German fans turned up in blackface. During a match between France and Switzerland, three French fans dressed up in blackface at the Arena Fonte Nova stadium to mock the Afro-Brazilian and Caribbean religion, Candomblé.
Sean Jacobs and Elliot Ross, who run the blog "Africa Is Not a Country", denounced FIFA, the sport's governing body, for not taking blackface during the competition seriously: "the media, and the authorities who run the game, have yet to challenge the practice of showing up to a game adorned in a style that celebrates centuries of racism against black people." 
But instances of blackface have not been limited to sports fans: from professional dancer Julianne Hough's decision to don blackface as a part of a Halloween costume, to an Israeli officer who faced controversy after posting a photo of himself with mud on his face on Facebook, alongside the caption "Obama style." There's Dunkin Donuts in Thailand, which apologized after using blackface in one of its advertisements. It's a sadly long-running list. 
What's worse, is that these controversies usually do not result in any meaningful change, despite the sinister history behind blackface. 
It's a practice that stems from black minstrelsy in the 1830s when entertainers would blacken their faces to play characters that were presented as stupid, frivolous and comical — a performance act that spread to Western Europe as well. 
Image Credit: AP. Singer and actor Al Jolson performs in blackface in the 1927 film, the Jazz Singer.
From this tradition, Zwarte Piet was born. Just a year before slavery was abolished in former Dutch colonies, cartoon artist Jan Schenkman drew the dimwitted figure with an Afro, big lips, and ears pierced with a gold earring. According to local folklore, St. Nicholas or "Sinterklaas," arrives on a ship from Spain with a group of black men who serve him. While St. Nicholas rides a white horse, his companions hand out cookies and candy. More than a century later, the tradition still thrives in the region. 
Knowing the character's damning history makes it even more infuriating that many Dutch people continue to deny that the practice is racist.
No matter what legacies, traditions or so-called humor intended, the deplorable, racist blackface iconography has got to stop. If the Netherlands can take a step towards doing so, the rest of the world should follow suit.