Brazil Is No Longer World Soccer's Romantic Superpower. This Was the Last Time They Were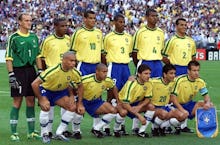 This year's World Cup host team, the peerless Neymar aside, is not, to use a soccer cliche, vintage Brazil. It has the muscular, bustling Fred and Hulk; the slight and ineffectual Oscar; fullbacks that are pale imitations of Cafu and Roberto Carlos; and personality-free, interchangeable central midfielders. The goalkeeper, Julio Cesar, is contracted to England's Queens Park Rangers. It's not exactly Jarzinho, Pele and Carlos Alberto.
But in 2014, what even constitutes vintage Brazil? Despite building an entire national identity around the celebration of free-form, expressive soccer, over the past couple of decades, its World Cup teams have been mostly pragmatic affairs. In 2010, former midfield bruiser Dunga created an XI in his own image. Four years previously, a ponderous, sluggish Brazil was summed up by the rolling story of Ronaldo's weight. In 2002, an average side overcame a weak field to win the Selecao's fifth title. Dunga was captain in 1994, when a defensively-minded squad eventually beat Italy on penalties after a 0-0 final.
In 1998, though, we were given a glimpse of the Brazil that your dad talked about. It had, in Cafu and Roberto Carlos, arguably the greatest flying fullback partnership of all time. Dunga and Cesar Sampaio anchored the midfield. In front of them, Leonardo and Rivaldo had more-or-less free roles (as did the one-time world transfer fee record-holder Denilson when he regularly came on as a second-half substitute). And up front, alongside Bebeto (replacing Romario, who was injured just before the tournament) was Ronaldo.
Image Credit: Getty Images
It's hard in 2014, with all that's happened since, to look back and remember just how good Ronaldo Luís Nazário de Lima was coming into — and for almost all of — the 1998 World Cup. He'd scored 34 goals, mostly brilliant ones, in 37 games for Barcelona in the 1996-97 season. In 1997, he scored 15 in 20 games for Brazil. The greatest player in the world, he combined pace and trickery with powerful, accurate finishing. No defense in the world could live with him.
His goals were going to carry a dazzling Brazil to a second straight World Cup. The team created its own hype, both on the field (Roberto Carlos' still unsurpassed free kick in Le Tournoi during the summer of 1997) and off it, with the iconic Nike commercial that saw the squad romp through an airport showing off their skills getting heavy rotation on TV networks around the world:
In 1998, soccer fans didn't have anywhere near the same access to televised games as they do now. There was still an air of mystery surrounding great teams and individuals before tournaments and the Nike commercial let you know that there was a team, with the best player in the world and a supporting cast of stars who could do things the guys from your country couldn't, that was going to take France '98 by storm.
And, for the most part, that's exactly what the 1998 Brazilians did. They disposed of Scotland 2-1 in the tournament's opening game, before Ronaldo opened his account in an explosive 3-0 win against Morocco. The final group game, against Norway, saw Brazil go down 2-1 to a late, controversial penalty, but they won the group to set up a second-round matchup with Chile.
Brazil set a marker in that game, winning 4-1 and both the goalscorers — Ronaldo and Cesar Sampaio — should've had hat tricks, and were made to work hard for a 3-2 win in a thrilling quarter final against Denmark. Ronaldo gave Brazil an early lead in the semifinal with Holland, but a late equalizer from Patrick Kluivert took the game to extra time and, eventually, penalties. With the pressure on, the Selecao showed they could hold their nerve, scoring four out of four spot kicks to knock the Dutch out.
Image Credit: Getty Images
But it's not these games that have come to define the 1998 Brazilians, or France '98 in general, in the popular imagination. No, when most people think of the tournament today, it's of that great Brazil team's 3-0 capitulation to Zinedine Zidane and France, the confusion over whether Ronaldo would start (elements of which still remain a mystery) and the sad sight of him playing the whole game despite something obviously being seriously wrong.
The narrative of 1998 became the first part of a great French team's major tournament double, which it would complete at Euro 2000 two years later. And, while the 1998 French side had Zidane, a superb defence and a handful of other excellent players, it also had a striker, in Stéphane Guivarc'h, who wasn't fit to lace Ronaldo's boots.
So the 1998 Brazilians became associated with failure and a shadow was cast over Ronaldo's career that he could never quite shift. Despite redemption in Japan in 2002 and a successful spell at Real Madrid after that tournament, he was always viewed as something of a joke player and, with near-constant jibes about his weight, was never again truly revered. But, because of those four thrilling weeks in France before the final, Ronaldo and his 1998 colleagues deserve to be remembered as the last Brazil squad to truly live up to the myth of the Selecao.
Image Credit: Getty Images