What U.S. Soldiers and Their Families Secretly Think About the Military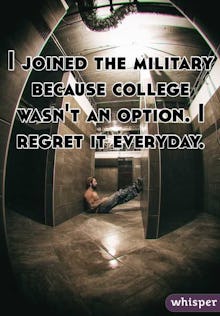 There are precisely 1,400,852 Americans currently serving our country at home and abroad. These men and women are sworn to defend the Constitution of the United States against all enemies, foreign and domestic, and to uphold the pillars of our society. 
It's a lofty task, and a job that we as Americans hold in the highest regard. But what do the soldiers and their families actually think about serving?
Whisper — an app which allows users to anonymously post messages — gives us a glimpse into the deepest, most emotionally-tinged thoughts of these men and women. Soldiers are platformed in hero-level esteem for their actions. But these Whispers show the truest, most raw human side of the military: fear, excitement, confusion, sadness, hate, daring, bravery.
Here are their thoughts: 
1.
2.
3. 
4. 
5.
6.
7.
8.  
9.
10.
11.
12.
13.
14.
Image credits: Whisper 
The Whispers were authenticated by the site's editors who describe the process:
"Whisper allows users to share personal experiences and thoughts they might not be comfortable sharing publicly or while tethered to a user profile," said Whisper editor-in-chief Neetzan Zimmerman. "The anonymous nature of Whisper creates an entirely safe space for discussion, advice, and support. The only incentive for posting whispers is to be able to participate in an authentic conversation around themes that matter."