Pope Francis Just Made a Powerful Statement About Environmenal Pollution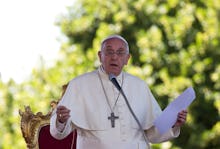 The news: One of Pope Francis' biggest agenda items as the leader of the Catholic Church has been to promote preservation of the environment. The pontiff has been critical of the effects of industrialization on the environment and on Saturday renewed his call for an eco-conscious society.
"This is one of the greatest challenges of our time: To convert ourselves to a type of development that knows how to respect creation," the pope said in a speech at University of Molise, a school in southern Italy.
Francis, the first South American pope, also highlighted the effects of deforestation at home. "When I look at America, also my own homeland, so many forests, all cut, that have become land ... that can longer give life. This is our sin, exploiting the Earth and not allowing her to her give us what she has within her," he said.
This isn't a new stance for the pope. After all, the pontiff chose his papal name after Francis of Assisi, the patron saint of animals and the environment. Even in his inauguration homily, Francis called for "respecting each of God's creatures and respecting the environment in which we live."
And in May, the pope made a religious case for fighting climate change, arguing that it is a Christian duty to safeguard "the beauty of nature and the grandeur of the cosmos."
"Creation is not a property, which we can rule over at will; or, even less, is the property of only a few: Creation is a gift, it is a wonderful gift that God has given us, so that we care for it and we use it for the benefit of all, always with great respect and gratitude," he said after holding a five-day summit on sustainability at the Vatican.
The socially conscious pope even announced in January that he is working on an encyclical on "the ecology of man." The completed letter would be sent out to all bishops as a form of papal teaching, and will be the first ever encyclical devoted to the topic.