Watch the First Trailer of André 3000's New Jimi Hendrix Movie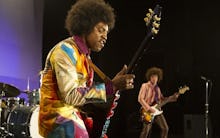 It's been a busy year for André Benjamin — better known as André 3000 — who has been enjoying the comeback of his rap duo Outkast while also working on his solo music. Now he is starting promotion for his new film Jimi: All Is by My Side, in which he takes on the titular role of guitar god Jimi Hendrix.
The project has been delayed for some time, but a new trailer offers an exciting glimpse of the biopic directed by John Ridley, the Oscar-winning screenwriter of 12 Years a Slave. Watch the trailer below:
The film required Benjamin to learn how to play guitar like Hendrix: left-handed on a right-hand guitar strung upside down.
Interestingly enough, the film doesn't actually contain any songs from Hendrix's repertoire; due to a conflict with the late musician's estate, Ridley was forced to concentrate on the years when Hendrix was on the cusp of fame. Another biopic in the works — titled Jimi, and starring Captain America actor Anthony Mackie — has received the estate's blessings, and will be able to use Hendrix's iconic rock catalog.
But Jimi: All Is by My Side has the advantage of Benjamin's star power and an earlier release date — the film will hit theaters on September 26.