17 Vivid Photos That Remind Us How Beautiful America Really Is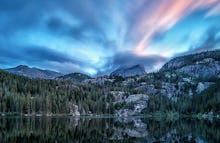 The past year has not been an easy one for America. With congressional infighting, a still-struggling economy and renewed costly, foreign conflicts without a foreseeable end, there might be something weighing on your mind as you celebrate the United States this Independence Day weekend.
But if you need a surge of patriotism, look no further than the Department of Interior's fantastic Instagram account. The department has a breathtaking collection of photos from national parks and monuments across the country, all of which serve as an enduring reminder that no matter how tough things get, it's still "America the Beautiful." 
(Pro-tip: Play this video while looking through the images for the U.S.A. effect.)
Check out some of America's natural treasures below, courtesy of the U.S. Department of Interior:
1.
"Bass Harbor Head Lighthouse at Sunset in #AcadiaNational Park. #Maine"
2.
"Rising above a scene rich with extraordinary wildlife, pristine lakes and alpine terrain, the Teton Range stands monument to the people who fought to protect it. These are mountains of the imagination. Mountains that led to the creation of Grand Teton National Park where you can explore over two hundred miles of trails, float the Snake River or enjoy the serenity of this remarkable place."
3.
"A beautiful sunset from Cape Royal over Wotans Throne @GrandCanyonNPS."
4.
"Ascending to 14,410 feet above sea level, Mount Rainier stands as an icon in the Washington landscape. An active volcano, Mount Rainier is the most glaciated peak in the contiguous U.S.A., spawning six major rivers. Subalpine wildflower meadows ring the icy volcano while ancient forest cloaks Mount Rainier's lower slopes. Wildlife abounds in the park's ecosystems. A lifetime of discovery awaits."
5.
"Saturday morning, early risers found the the Yellowstone River Valley inundated by fog where it passes along the Blacktail Deer Plateau in Yellowstone National Park."
6.
"Come and experience @GlacierNPS pristine forests, alpine meadows, rugged mountains, and spectacular lakes. With over 700 miles of trails, @GlacierNPS is a hiker's paradise for adventurous visitors seeking wilderness and solitude. Relive the days of old through historic chalets, lodges, transportation and stories of Native Americans."
7.
"Night sky photos from America's public lands always blow us away. This image was taken at Balanced Rock inside Arches National Park and includes Zodiacal Light and the Milky Way."
8.
"Sunset at the Doll House in #Canyonlands National Park. #Utah"
9.
"Red Rock Lakes National Wildlife Refuge is located in Montana's Centennial Valley and is part of the Greater Yellowstone ecosystem. Originally established in 1935 to protect trumpeter swans, this refuge is home to a variety of other wildlife, as well as Arctic grayling, a very unique member of the trout family. The views from this refuge are among some of the finest to be found."
10.
"Another National Park has joined Instagram! Follow@RockyNPS to see amazing shots like this one of Bear Lake, just after sunset, with Hallett Peak in the background in Rocky Mountain National Park."
11.
"Another great location for anyone looking to 'get away,' the 11,700 acre Cottonwood Canyon Wilderness near St. George, #Utah features massive blocks of Jurassic age Navajo Sandstone eroded by wind and water, leaving rounded domes and numerous small canyons."
12.
"The three majestic natural bridges of Natural Bridges National Monument in Utah invite you to ponder the power of water in a landscape usually defined by its absence. View them from an overlook, or hit the trails and experience their grandeur from below. Declared a National Monument in 1908, the bridges are named 'Kachina,' 'Owachomo' and 'Sipapu' in honor of the Native Americans that once made this area their home. This is also home to some of the darkest night skies in the United States."
13.
"In the shadow of 13,063-foot Wheeler Peak, 5,000-year-old bristlecone pine trees grow on rocky glacial moraines. Come to Great Basin National Park in Nevada to experience the solitude of the desert, the smell of sagebrush after a thunderstorm, the darkest of night skies, and the beauty of Lehman Caves. Far from a wasteland, the Great Basin is a diverse region that awaits your discovery."
14.
"Aidan Busch took this fantastic photo of bison in#Yellowstone National Park. Here's what he had to say about this experience: 'Early one morning I woke up and drove into Lamar Valley for a chance to spot some wildlife. It was a gorgeous late summer morning, with lots of golden light. About a hour in, We came across a herd of bison. After lingering for about half an hour, a male and a female crested the hill to my right, and struck a pose for me. I love the drama that the bison's pose combined with the clouds rolling into the mountains behind creates.'"
15.
"The tallest dunes in North America are the centerpiece in a diverse landscape of grasslands, wetlands, conifer and aspen forests, alpine lakes, and tundra of Great Sand Dunes National Park in #Colorado."
16.
"Port Louisa National Wildlife Refuge in #Iowa was established for the protection of migratory birds. It is located along the Mississippi River Flyway, one of the major routes for migrating waterfowl. Key goals of the refuge are to conserve and enhance the quality and diversity of fish and wildlife and their habitats, and to restore floodplain functions in the river corridor."
17.