16 Short Films That Launched the Careers of Famous Directors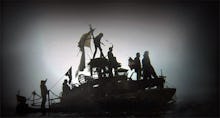 Fledgling filmmakers are often comforted to find that many of their favorite directors had precarious beginnings, producing short films that were visually underwhelming and thematically overwrought (see: Darren Aronofsky's god-awful first attempt to adapt Hubert Selby, Jr. for the screen in his 1992 short, Fortune Cookie).
Occasionally, though, those early short films emerge to unequivocal critical acclaim, catapulting their neophyte creators into the limelight and attracting financiers to fund their subsequent features. To show what it takes to make it big in Hollywood, here are 16 shorts that helped launch the careers of filmmakers who later went on to be some of the greats. Use these as inspiration, raw talent exists but no one starts at the very top. 
1. Benh Zeitlin, 'Glory At Sea' (2008)
In 2012, Zeitlin's debut feature Beasts of the Southern Wild swept the festival circuit, winning top prizes at both the Sundance and Cannes film festivals before ultimately picking up four Oscar nominations. Funding for the film wouldn't have been possible, however, had Zeitlin not won an award at South by Southwest in 2008 with the premiere of his precursor short, Glory at Sea.
With Beasts' DIY aesthetic and a similarly precocious young female protagonist, Glory follows a group of feisty mourners and a man spat from the depths of Hades who build a boat from the debris of New Orleans to rescue their lost loved ones trapped beneath the sea. Rendered in post-Hurricane Katrina grief with an overwhelming sense of magic realism, the short offers a much tighter encapsulation of Beasts, but with equally epic aspirations.
2. Michel Gondry, 'Human Behaviour' (1993)
Gondry — like Spike Jonze and David Fincher — entered into feature filmmaking via music video production. In 1993, the style of Gondry's early videos for his own band Oui Oui caught the attention of Björk, who asked him to direct a video for her song "Human Behaviour." In the production, Gondry shows off his trademark style: a stop-animation-esque approach depicting dreamlike mechanizations and the glitchy imagery of soaring meteors.
The neosurrealist aesthetic catapulted Gondry into the top tier of music video auteurs, setting him off producing videos for the likes of Radiohead and Beck before bringing him to the attention of screenwriter Charlie Kaufman, whom he would go on to collaborate with on his first two feature films, Human Nature and Eternal Sunshine of the Spotless Mind.
The one other short that was essential to Gonrdy's rise to fame was his Levi's 501 "Drugstore" commercial back in 1996. According to the Guinness World Records 2004, this spot holds the distinction for "Most Awards Won by a TV Commercial."
3. Sofia Coppola, 'Lick The Star' (1998)
Hollywood legacies like Coppola and Jason Reitman often get shortchanged for the nepotism that jump started their careers. We tend to forget that both worked tirelessly producing successful shorts before their forays into features.
In 1998, eight years after her critically denounced appearance in The Godfather: Part III, Coppola wrote and directed Lick The Star, a 14-minute film that premiered on the Independent Film Channel. The film shows the beginnings of Coppola's unique cinematic style: Sharp cutting, stark compositions and rock 'n' roll music all help frame the downfall of the most popular girl in high school. The film prefigures themes and images of many of Coppola's later works. The opening scene shows the lead actress being driven in a car — a running trope that has remained in almost every single opening scene in her features since: The Virgin Suicides, Lost in Translation and Somewhere.
4. Martin McDonagh, 'Six Shooter' (2006)
To be fair, McDonagh was a world famous playwright long before he tried his hand at filmmaking. His twisted black-comedy, The Pillowman, won two Tony Awards five years before he received his Oscar nomination for Best Original Screenplay for In Bruges.
Still, McDonagh wouldn't have earned the credentials necessary to pull off In Bruges and, later, Seven Psychopaths, had it not been for this Academy Award-winning short from 2006. The polished 27-minute film is a distinct precursor to In Bruges, following its typical pattern in which humor-laden tragedy gradually becomes less realistic and more violent, yet more emotionally wrenching. Six Shooter was also McDonagh's first collaboration with actor Brendan Gleeson. Recently, Gleeson and his brother produced their own short reminiscent of Six Shooter's violent Irish-bumpkin humor, Noreen.
5. Stephen Daldry, 'Eight' (1998)
All of Daldry's features have garnered him Best Picture and/or Best Director Oscar nominations — Billy Eliot, The Hours, The Reader and Extremely Loud and Incredibly Close. His first award, however, was a 1999 BAFTA nomination for his 13-minute endeavor, Eight. Not unlike his later features, which follow young protagonists through periods of abandonment and self-discovery, Eight tells the story of an 8-year-old soccer fan who has to come to terms with living in a new town after the loss of his father.
6. Mike Judge, 'Milton' (1991)
Much like Matt Stone and Trey Parker, who were hotly sought after by the major TV networks after the circulation of their 1995 South Park short The Spirit of Christmas, Judge earned his stripes with a series of animated shorts that aired on Saturday Night Live and MTV in the mid-1990s.
Milton follows the daily belittling of a meek office worker by his boss, Bill Lumbergh. Both Lumbergh and the series' title character would have supporting roles in Judge's 1999 live-action cult classic Office Space. But before that, Judge was able to use the credential to explore other animated projects, including Beavis and Butt-Head and King of the Hill.
7. Jared Hess, 'Peluca' (2003)
Before Jon Heder played the titular character in 2004's breakout indie hit Napoleon Dynamite, the actor starred as the same character (only going by the name of Seth) in director Hess' student short film Peluca. The short was made for only $500 on black-and-white 16mm film stock in Hess' hometown of Preston, Idaho, over the course of two days. After being shown during the Slamdance Film Festival in 2003, Hess was encouraged by a producer to adapt the short into a low-budget feature. Napoleon Dynamite came out the following year, enabling Hess' rise as an indie director and Heder's rise as a comedy star.
8. F. Gary Gray, 'It Was A Good Day' (1993)
This isn't just any music video. Gray's video adaptation of Ice Cube's famous solo track remains one of the best-known music videos to date. In 2011, Rolling Stone listed it in the Top 100 Best Videos of All Time. It even has its own meme.
Gray was relatively unknown when Ice Cube hired him to make the video. Its success then prompted the rapper to ask Gray to direct the film he was co-writing. Made for only $2 million, Friday, starring Ice Cube and Chris Tucker, grossed $30 million, paving the way for several sequels. Over the next decade, Gray proved his versatility with films like The Negotiator and The Italian Job.
Recently, it was announced that he had beaten out John Singleton (Boyz n the Hood) and George Tillman Jr. (Notorious) for the chance to direct the 2015 NWA biopic, Straight Outta Compton, with Ice Cube.
9. Ryan Fleck, 'Gowanus, Brooklyn' (2004)
While finishing up the graduate film program at NYU's Tisch School Of The Arts, Ryan Fleck met Anna Boden on the set of a student film she was directing. The two wound up dating and then collaborating on a number of shorts, including Gowanus, Brooklyn, which won top prize at Sundance in 2004. On the strength of the short, they secured the finances to expand it into their 2006 debut feature Half Nelson. The feature retained Gowanus' minimalistic, handheld style, but added Ryan Gosling as the drug-addicted inner-city teacher who is befriended by his student, played by Shareeka Epps, whom Fleck and Boden discovered while casting Gowanus.
The feature was met with widespread acclaim and earned Gosling an Oscar nomination.
10. Neill Blomkamp, 'Alive in Joburg' (2004)
Blomkamp, a South African visual effects artist with a history in music videos and television advertisements made Alive in Joburg, a six-minute short in 2005. When Peter Jackson happened upon the film, he decided that he had to bring Blomkamp to work for the visual effects company Jackson runs in New Zealand.
"He was just what we were after, one of these guys who lives and breathes film," Jackson told the Chicago Tribune. "I hadn't met someone who needed to be making movies more than Neill." Jackson initially wanted Blomkamp to get to work on a film version of the video game Halo. When that fell through, Jackson suggested that Blomkamp instead develop Alive in Joburg for the big screen. Five years later, District 9 was released, grossing more than $200 million and earning four Academy Award nominations.
11. Lynne Ramsay, 'Small Deaths' (1996)
Ramsay has been on a streak since she entered into feature filmmaking. With her critically exalted 1999 debut Ratcatcher and, more recently, her acclaimed horror-drama We Need to Talk About Kevin, she has boldly announced herself as one of those rare artists able to bend the cinema to the shape of her own extraordinary vision. Immersive and at times overwhelming, Ramsay's films abound with uncommon imagery arresting for its remarkable use of texture, composition, color, music and sound. Grounding Ramsay's sensorially rich cinema are the similar protagonists of her films, each recovering with a strange assurance from a traumatic, violent death in which they are also directly, although enigmatically, implicated.
Her film school thesis short, Small Deaths, set the stage for this success, winning the Prix du Jury at Cannes. Small Deaths is a collection of three key moments in a girl's youth, offering a playful yet sophisticated experimentation with the non-traditional composition and expanded soundscapes that would become signatures of her features.
12. Paul Thomas Anderson, 'Cigarettes & Coffee' (1993)
The critically adored director of There Will Be Blood and The Master owes his career to a big break at Sundance in 1993. Anderson spent his college fund and some gambling winnings to make the short, Coffee And Cigarettes, which tells the story of five people all interconnected through a $20 bill. On the strength of the short, Anderson was then invited to the Sundance filmmakers lab, where he worked on adapting the short into a feature. The film became Hard Eight, which premiered at Cannes in 1996, launching one of the most important cinematic careers of the past few decades.
13. John Lasseter, 'Luxo Jr.' (1986)
In 1986, Steve Jobs bought Lucasfilm Computer Graphic Group for just $5 million. He renamed the company Pixar and immediately set one his animators, 30-year-old Lasseter, to work on a short animated film that would showcase what the fledgling company was capable of doing.
Luxo Jr., the story of a boisterous little lamp, was the result. The short became the first three-dimensional animated film to be nominated for an Oscar, and the lamp became Pixar's corporate identity. Lasseter would go on to direct Toy Story, A Bug's Life, Toy Story 2, Cars and Cars 2, and eventually rose to the position of chief creative officer of both Pixar and Disney animation studios.
14. Tim Burton, 'Frankenweenie' (1984)
In 2007, Disney signed Burton to direct a stop-motion animated remake of Burton's own 1984 short film Frankenweenie. Right out of CalArts, Disney commissioned Burton to make the original live-action short to precede the 1984 re-release of Pinocchio in theaters. The film's bleak tone didn't meet the studio's expectations for a family film, however, so Disney decided to shelve the project and fire Burton. Luckily, around the same time, Paul Reubens was looking for a director for a film idea he had been developing. Stephen King had seen Burton's short, and strongly recommended it to Reubens. Reubens arranged to meet with Burton and offered him his breakout opportunity, directing Pee-Wee's Big Adventure.
The full-length animated version of Frankenweenie was released in 2012 and received nominations for an Academy Award for Best Animated Feature Film.
15. George Lucas, 'Electronic Labyrinth THX 1138 4EB' (1967)
As a film student at the University of Southern California in 1967, Lucas directed Electronic Labyrinth THX 1138 4EB, a sci-fi short about a group of people living in an underground dystopia. In January 1968, the film won first prize in the category of Dramatic films at the third National Student Film Festival held at the Lincoln Center, where, incidentally, it was seen and admired by Spielberg, who had not previously met Lucas.
The short's praise convinced Lucas' friend and fellow USC film student, Francis Ford Coppola, to fund the film when he founded his production company American Zoetrope in 1971. The feature version, simply titled THX-1138 was commercially unsuccessful and would've bankrupt American Zoetrope had it not been for the success of Coppola's 1972 film The Godfather. Despite its poor box office performance, THX-1138, like its predecessor, was well received among critics, setting Lucas up for his next two features: American Graffiti and Star Wars.
16. Wes Anderson, 'Bottle Rocket' (1994)
Anderson's original 1994 black and white version of Bottle Rocket has likely done more to launch its director's career than any other short film ever. The making of the film has almost become apocryphal: In 1992 Anderson and Owen Wilson met in a playwriting class UT Austin. The two wrote a script together, which followed the exploits of three clueless would-be criminals, who would be played by Robert Musgrave, Wilson and his brother, Luke. During the 1994 Sundance Film Festival, Bottle Rocket received little attention from critics and attendees, but managed to catch the eye of producer James Brooks, who funded the duo's debut feature based on the short.
The difference between the 13-minute short and the 92-minute feature are mostly cosmetic — the narrative was expanded, and color photography was used. The feature also ditched the short's jazzy soundtrack for a new score from former Devo member Mark Mothersbaugh. Upon release, the feature quickly gained cult status among critics and cinephiles. Martin Scorsese named the film one of his 10 favorite movies of the decade. The accolade prompted Disney to finance Wilson and Anderson's next film project, Rushmore, which ushered in a cast of recurrent collaborators — Bill Murray, most notably — who have ardently worked to help Anderson make many of the films that have defined modern cinema: The Royal Tenenbaums, Fantastic Mr. Fox, Moonrise Kingdom, you know the drill.