You've Probably Never Heard of Savan Kotecha, but Everyone Has Heard His Music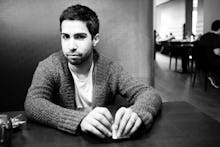 Savan Kotecha was on his way to the studio when he heard his wife remark that she was unhappy with her appearance that day. A line immediately popped into Kotecha's head in response: "You don't know you're beautiful, that's what makes you beautiful."
A few more melodies and days later, he had created what would soon become the sweet and sugary chart-topping single. And so began the slow and steady melting of young girls' hearts everywhere.
"What Makes You Beautiful" quickly launched One Direction into stardom, but they didn't get there alone. At every step of the way, Kotecha has guided them — as a friend and the songwriter behind many of their most successful songs — ever since helping them as a vocal coach on the X Factor. "It's important to surround yourself with people that are looking to affect pop culture and move things forward," he told Mic by email.
Recently, he's had his hand in over a dozen 1D songs (largely off the first two records, including "One Thing," "Live While We're Young" and "Kiss You"), which together set the band on the path to earning the best-selling record of 2013. Outside of that, he's tried his hand at writing for Britney Spears, Maroon 5, Ariana Grande, MKTO, Carrie Underwood, Cher Lloyd, Enrique Iglesias, Demi Lovato, Jennifer Lopez and, of course, Il Divo.
Though that success seems near-instantaneous (one never hears of 1D's hard-scrabble club days), Kotecha has been around the pop circuit for a while now; he started pursuing songwriting as a career when he was a teenager. When the young Texas-based songwriter heard that Babyface — whom he still considers one of his biggest musical influences — was staying at a nearby hotel in Austin, Kotecha left a demo tape and letter on every car windshield in the parking lot. He had high hopes that the R&B singer might pick up just one of his copies. He didn't, but though those demos never made it to Babyface, Kotecha still got his big break a few years later when he signed to BMG at age 21.
It wasn't long after that he jetted off to Sweden to work with some of the best pop songwriters in the business — including Rami Yacoub and Max Martin — and eventually penned tracks like Usher's "DJ Got Us Fallin' In Love" and Spears' infamous innuendo-hit "If U Seek Amy."
Now, he leads a life most music lovers can't imagine — as a writer in the song workshop run by Martin at the heart of the industry.
Kotecha spoke with Mic about his songwriting process, and he stressed that Martin, especially, has been a huge part of his own success in the business. It makes sense — Martin has co-written and produced 17 Billboard No. 1 hits. Everything from mid-'90s classics like "I Want It That Way" and "… Baby One More Time" to Katy Perry's "I Kissed a Girl" and Grande's "Problem," which he worked on with Kotecha.
"He was one of my heroes when being a songwriter was just a dream," Kotecha said.
"[Martin has] been an amazing mentor to me and I've learned a lot from him — not just about songwriting, but about how to find balance between this crazy job and family. His humbleness and level-headedness set a great example of how one should handle success."
The pop world has thrived from songwriters' partnerships — often ones that go unseen. Kotecha is part of a network of songwriters that are working together to make a new generation of hits.
"When writing One Direction's 'Kiss You,' we were stuck on the verse for days, and then [I] called up [Swedish songwriter] Shellback. He came up with this amazing verse melody we would never have thought of," Kotecha said.
But the Kotecha and Martin partnership is key. They most recently collaborated on "Bang Bang," an upcoming single featuring Jessie J, Grande and Nicki Minaj (yes, all of them). Though he can't reveal too much information about the track, Kotecha was very excited about it.
"We wrote the song with the idea of doing a new 'Lady Marmalade'-type thing, getting some of the best female artists on the same record," he says. And with a powerhouse of celebrity vocal and production skills, it's hard not to find motivation. "Being surrounded by such great artists inspires me to raise the bar because you want to be able to add to their musical legacy," he added.
But the business is still competitive, even among such rich partnerships. "Obviously, someone can release a song — like 'Blurred Lines' — which changes the landscape, but the goal is for you to write that song. And if you didn't, you've gotta work hard to catch up and keep and open mind."
Even when he's chasing paradigm-shifting sounds, though, the man behind some of the biggest music in the world starts small. Kotecha always finds musical inspiration in fleeting moments or words.
"I keep a list of titles and phrases in my phone that I hear or read from a movie or a magazine. And then, a lot of the times, I build a melody around them," he said. "The line 'one less problem without you' [on Grande's single] was inspired by something I read in Cosmopolitan."
Those phrases linger and marinate in Kotecha's head; whether they take form in "Problem" or "What Makes You Beautiful," it's still a gamble — there's always the possibility that one catchy hook could be his last.
"You never know if you're gonna have a hit again," Kotecha said. "So every time it happens, I just feel so thankful."