There's Something Outrageously Hypocritical About This Photo of ISIL's Jihadist Leader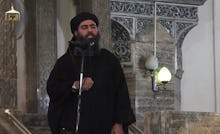 If you're going to be the self-proclaimed leader of the Muslim world, you might as well do it in style. 
A video has emerged of Abu Bakr al-Baghdadi, the head of Islamic State, the group behind a violent insurgency in Iraq (formerly known as the ISIL) supposedly making a rare public appearance. Allegedly filmed July 4 at Mosul's Great Mosque, al-Baghdadi is seen dressed in all black and giving a fiery sermon. In the video, he celebrates the group's "victory" in Iraq and calls for an Islamic state:
"God gave your mujahedeen brothers victory after long years of jihad and patience ... so they declared the caliphate and placed the caliph in charge," he said.
But astute social media users spotted something unusual about al-Baghdadi's getup: While dressed in a style meant to evoke the style of dress of Iraq's last caliph to rule from Baghdad, he also sported a pricey watch. 
Judging from the video, some believe that the watch could be a Sekonda, a Rolex or an Omega seamaster, which costs almost $6,000. This is particularly jarring given that the regions where the group has gained control, Syria and Iraq, face serious economic troubles. 
Lebanese satirist Karl Sharro perfectly sums up the problem with the picture:
The video comes after rumors that the leader had been killed, and Iraqi authorities deny that the man in the video is, in fact, al-Baghdadi. Islamic State is currently waging a violent insurgency in Iraq, with at least 1,075 civilians killed since June, according to the UN. The group has also allegedly destroyed shrines sacred to both Sunni and Shia Muslims.
Islamic State now controls much of northern and western Iraq, adding to the country's long-running list of woes since the U.S.-led invasion in 2003. The rule of Iraq Prime Minister Nouri al-Maliki has long disenfranchised the Sunni minority with his corrupt rule. 
The violent group has declared a so-called Islamic state, and many speculate that their spread could destabilize the region. Unverified maps of the wider region, swathed in the group's black flag, have captured the imaginations of many news outlets that have claimed the group has a "five-year plan" to dominate the region. However, despite the group's immense resources, such reports remain unverified. It is unclear what the group's official vision is, or even their power — thanks to Islamic State's slick PR campaign to inflate its capabilities.
But based on what what we do know, the group's rise does help paint a bleak picture for both Iraq and Syria.