Brazil Is Two Wins From the World Cup, so Why Is This Young Fan Crying?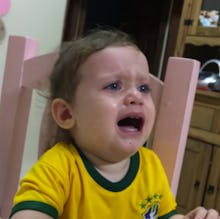 Brazil won 2-1 over Columbia in a hard-fought World Cup quarterfinal on Friday at Fortaleza's Estádio Castelão. So why is this 1-year-old fan crying?
Because Neymar, Brazil's talismanic striker and top scorer (with four goals in five World Cup games), was injured on a reckless challenge from Colombian defender Juan Zúñiga during the dying minutes of Friday's match.
The 22-year-old superstar was taken directly from the stadium to Fortaleza's Hospital São Carlos and early reports did not look good. Fans gathered outside and held vigil.
The diagnosis was a fractured vertebraea. And just like that, Neymar's World Cup was over. As the news spread, the sports world reacted in real time.
Within hours, Neymar's X-ray was being analyzed on Brazilian television.
The front pages of Saturday's newspapers in Brazil said it all. The headline of Extra: "A coward removes Neymar from the games."
Image Credit: Newseum.org
Agora São Paulo: "A hit prohibited even in the UFC."
Image Credit: Newseum.org
A Tarde called Zuniga "the Colombian butcher."
Image Credit: Newseum.org
"The pain that stopped our joy," wrote Correio Braziliense.
Image Credit: Newseum.org
Later Saturday, Neymar received a letter of support from Brazil President Dilma Rousseff.
Zuniga, whose foul went unpunished by the referee, received death threats and racist abuse from Brazilian fans on Twitter.
During halftime on Saturday's quarterfinal between Argentina and Belgium, Brazilian TV even interrupted coverage of the game to beam live pictures of Neymar leaving the Brazil camp north of Rio by helicopter.
Neymar finally released a video through the Brazilian Soccer Federation and urged his teammates to complete their quest to win a sixth World Cup. A subsequent TV interview left the presenter and members of a studio audience in tears.
Brazilian people: Players, coaches and fans. This is a very tough moment. I have no words to describe what's going on in my head or my heart. I want to tell you that I'll be back to the field as soon as possible. I would like to thank you for your support and affection expressed through the messages that have been sent to me and say: My dream has not ended yet. It was interrupted by a play but it is still alive. I am sure my teammates will make sure I can achieve my dream, which is to be a champion, come true. Another dream of mine was to play in a World Cup final, but this time that can't be possible. I'm sure my partners will win and be champions, along with me. And we, Brazilian people, will be celebrating this achievement. Thank you all.
Which brings us back to 1-year-old Ana Bella, whose reaction to the news echoes the sentiments of a nation.
Brazil continues its World Cup quest with a semifinal against Germany at Belo Horizonte's Estádio Mineirão on Tuesday (4 p.m. ET, ESPN).