While You Were Celebrating the Fourth of July, Chicago Had One of Its Bloodiest Weekends Ever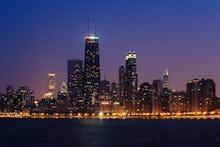 The news: Chicago had one of its bloodiest weekends ever, with shootings leaving at least 14 dead and 68 injured.
According to the Chicago Tribune, 30 people were shot (four fatally) over one 13-hour stretch from Sunday night to Monday morning.  
Throughout the weekend, the city saw spikes in violence on Friday, Saturday and Sunday nights. Five shootings involved a police officer, with two resulting fatalities. One involved a veteran with a concealed carry permit who shot a partygoer who drew a firearm on him after a dispute over alcohol.
The recent stretch of shootings far surpasses other bloody weekends on Chicago this year, including high levels of gun violence on Mother's Day weekend and Easter weekend. Violence in the city has actually been dropping since city officials began an aggressive campaign to draw down gang violence in 2012. In April, the homicide rates for the first three months of the year were lower than any point since 1958.
Image Credit: Chicago Tribune
Why is this happening? Mic's Zak Cheney-Rice writes that the city has an especially notorious legacy of violence thanks in part to mass housing segregation, which forced black residents into strictly defined parts of the city. This segregation "provided a perfect blueprint for imposed disadvantage"; the six police districts with the highest murder rates from 2007 to 2011 had black populations exceeding 94% of the total. Chicago remains one of the most racially segregated cities in the country. Violence across the city affects black people incredibly disproportionately, with whites having comparatively little to fear.
"[Chicago's] mayors and aldermen razed neighborhoods and segregated public housing," wrote the Atlantic's Ta-Nehisi Coates. "Its businessmen lobbied for racial zoning. Its realtors block-busted whole neighborhoods, flipping them from black to white and then pocketing the profit." White neighborhoods have a per capita income nearly three times that of black neighborhoods; West Garfield Park, one of the most crime-ridden black neighborhoods in Chicago, has an incarceration rate 40 times as high as the most comparable white neighborhood.
Mayor Rahm Emanuel's administration has focused on seizing guns and imprisoning gang leaders, a strategy that has seen limited results, since it fails to challenge the foundations of Chicago poverty. Shootings almost exclusively occur in heavily black neighborhoods like Roseland, Englewood and Austin (graphic is from early June):
Why you should care: Violence in Chicago, like this weekend's stunning shooting spree, is not atypical or unexpected. Rather, it's the result of decades of deliberate efforts to segregate the city's population, and it will take equally massive efforts to desegregate neighborhoods and mend entrenched poverty to combat it.