How an Unknown Canadian Reggae Band Made the Hit Song of the Summer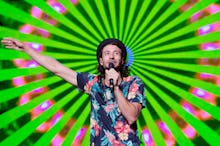 "Why you gotta be so rude?"
If you've listened to Top 40 radio at all this summer, odds are you've heard "Rude" by Magic! — a desperate ode about a proposal gone wrong featuring what is quite possibly one of the wimpiest retorts in the history of pop music. (To be fair, Canadians are known for their good manners.) But whiny or not, Magic!'s "Rude" is the breezy dark horse song of the summer — a song about marriage by a Canadian reggae band most of us had never heard of that somehow became massively popular.
"Rude" is such perfect summer fare, in fact, that it is currently sitting atop the iTunes Digital Singles Chart, ahead of heavyweights like Sam Smith's "Stay With Me," Iggy Azalea's "Fancy" and Ariana Grande's newly-released Zedd collaboration "Break Free." In its 10-week stint on the Billboard Hot 100, "Rude" has already climbed to number two, and it's likely to dethrone current chart-topper "Fancy" in the coming weeks. For most of us following along at home, these are shocking statistics, especially given this year's tight race for summer song supremacy. 
Anyone who has followed lead singer Nasri Atweh's career, though, shouldn't be surprised by the band's quick rise to chart dominance. Prior to forming the Canadian four-piece, Atweh was one half of writing and production duo The Messengers (along with Los Angeles multi-instrumentalist Adam Messinger), with whom he wrote and produced tracks like Iggy Azalea's "Change Your Life," Justin Bieber's "All Around the World" and Pitbull's "Feel This Moment." Much like OneRepublic's Ryan Tedder did for his band, Atweh was able to apply his hit-making formula to Magic!'s debut album Don't Kill the Magic (RCA), and a chart-topper was born in what seemed like the least likely of places. 
Though Atweh's songwriting chops are a large part of what made "Rude" a hit, lite reggae is no stranger to radio success, either. Jason Mraz brought Jack Johnson-esque flip-flop pop to the top of the charts with "I'm Yours" in 2008. Maroon 5 traded in the rock-funk fusion of their debut album for Police-indebted faux reggae on tracks like "One More Night," the Rihanna-assisted "If I Never See Your Face Again" and their current single (and Nico & Vinz rip-off) "Maps" to massive commercial success. As much as what Grantland's Steven Hyden terms "bro-induced reggae" is critically derided, it clearly sells, and Magic! capitalized on what was a noticeable gap in this summer's pop offerings. 
Like several other 2014 pop hits (Sam Smith, Nico & Vinz, Sia), international success also helped bring "Rude" to prominence, with the track nearly topping the charts in Australia, New Zealand and Canada before making its way stateside. Magic! also had a cut on the official 2014 Fifa World Cup Album called "This Is Our Time," another bit of international exposure that boosted the band's U.S. debut. 
Magic! has also gifted us all with yet another aggressively obnoxious lead vocalist. He even considers Justin Bieber to be a little brother. Unlike his song's overly polite protagonist, Atweh isn't short on confidence, remaining unimpressed by the "song of the summer" accolades being thrown at his band. "I'm tired of 'song of the summer,'" he told the Toronto Star. "How about 'song of the year'? How about a real goal?" 
A "real" goal? Come on, man. Why you gotta be so rude?