Scientists Have Discovered a Simple Way to Predict if You Have Alzheimer's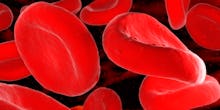 The news: For years, scientists have been working on a treatment for Alzheimer's, an incurable disease that remains the most common form of dementia. Dozens of experimental drugs have failed so far, at least partially because trial participants' already-deteriorating Alzheimer'sproved too advanced to cure. But a new development might predict and prevent the onset of Alzheimer's — with nothing more than a blood test.
In a new study published in the journal Alzheimer's & Dementia, researchers analyzed blood samples from 1,148 people — some with Alzheimer's or mild cognitive impairment (MCI) and others with neither — and were able to identify 10 proteins that matched signs of Alzheimer's developing. Using the proteins, the team was able to predict with 87% accuracy if a person with MCI would develop Alzehimer's within a year. That's not perfect, but better than anything else that medical researchers have been able to come up with so far.
"Alzheimer's begins to affect the brain many years before patients are diagnosed (and) many of our drug trials fail because by the time patients are given the drugs the brain has already been too severely affected," said Simon Lovestone of Oxford University, who led the research from King's College London. "A simple blood test could help us identify patients at a much earlier stage to take part in new trials and hopefully develop treatments," he said.
What does this mean? There is still a long way to go before scientists develop a workable cure for Alzheimer's. But for now, this blood test is a promising method of starting people on a treatment course before they exhibit symptoms, by which time it may be too late to affect the course of the disease.
The blood tests could be manufactured in as early as two to five years, although they might be limited to pharmaceutical trials; there is some controversy over whether such diagnostic tests should be offered to people without a viable cure for Alzheimer's on the market. While some may appreciate the idea of starting treatment as early as possible, others may feel the burden of a bad diagnosis with no cure in sight.
While these tests might not directly help the 44 million people around the world who suffer from Alzheimer's, when you consider the aging populations that are at high risk of developing the disease — the number of patients is set to triple by 2050 — this is a highly welcome advancement that will hopefully take Alzheimer's research to the next level.