A Woman's College Application Essay Led to Her Rapist's Conviction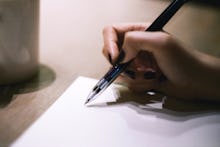 The news: For most students, college essays provide an opportunity to talk about their extracurricular activities, volunteer opportunities or any other special experiences that shaped who they are. But for one young woman from New York, her essay became a way to overcome a horrific trauma: rape at the hands of her stepfather.
Back in 2012, the woman — whose name has been withheld in the press to protect her privacy — wrote in her application to a Florida Christian college about how her stepfather started abusing her when she was just eight. Her mother, who has since divorced and remarried, discovered the essay, called a rape hotline and got in touch with the police.
On Monday, the young woman finally received some closure: her stepfather was found guilty of rape and sentenced to 18 years behind bars.
"Getting closure and justice on this horrible situation is the best thing I could have gotten from this experience. I felt like a weight had been lifted from my shoulders," the woman, now 18, wrote in a statement that was released after the sentencing. "I feel a lot happier than before. I will not forget what happened, but I will move on from it."
An unlikely recourse: The woman's unusual method of coming forward with her sexual abuse experience garnered attention in the courtroom: The stepfather's attorney accused her of fabricating the story to win sympathy from college admissions officers and her mother of encouraging the slander to get back at her ex.
But for the young woman, who has since moved to Florida with her mother, the essay provided her an opportunity to start a new chapter in her life.
"All I have been through has made me the person I am today," she wrote in her statement.