If Brazil Wins the World Cup, It Will Be Due to This Fantastic Song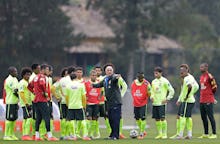 Sometimes happiness is late in coming
The Brazilian team has spent weeks listening to those lyrics by Grupo Revelação. At the behest of head coach Luiz Felipe Scolari, the Brazilian players had designated the song, "Tá Escrito" ("Already Written"), as their anthem. In other words, the Seleção entered the 2014 World Cup believing they were "born to win" the tournament.
"Tá Escrito," which focuses on overcoming hardship, could not have been a more appropriate choice for the Brazilian side as it approaches Tuesday's titanic semifinal clash with Germany. After all, with the loss of Neymar to injury, the Brazilian fans are practically in mourning.
What many assumed would be an easy path for Brazil to the finals has been anything but. Yes, the Brazilians are undefeated through five games, but they have been winning narrowly and now will have to do so without their top scorer (who suffered a broken vertebra Friday against Colombia) and team captain (Thiago Silva, whose second yellow card earned an automatic one-match suspension).
That is where Scolari's expertise comes in. The coach, soccer's answer to the NBA's "Zen Master" Phil Jackson, has long understood the advantages of embracing sports psychology. Prior to the start of the World Cup, Scolari had the team listen to a number of motivational speakers. One of the lecturers reportedly concentrated on the message that "individual talent is only bettered by collective talent."
This focus on the players' emotions has continued as the tournament has progressed. After the team's emotional near-collapse during the elimination match against Chile on June 28, Scolari brought in sports psychologist Regina Brandão to be with the team. Brandão had already met with the squad prior to the tournaments and had written full psychological profiles of each player for Scolari, who undoubtedly has the reports memorized by now.
Scolari took a similar approach in 2002 when he also employed Brandão. That team's anthem, "Deixa A Vida Me Levar" ("Let Life Take Me") by Zeca Pagodinho, helped the Seleção win its fifth World Cup title. The lyrics to "Deixa A Vida Me Levar" capture a similar confident, carefree attitude to "Tá Escrito" — If something does not work out the way I want / I do not despair / I just let that thing go.
It's a very difficult ask for the Brazilian players, going up against possibly the best team in Europe without their talisman, yet Scolari is no doubt reminding the players of the final verse of "Tá Escrito," the song they chose:
So raise your head, put your foot forward and go with faith 
That time, the Brazilians must believe, is now.