J.K. Rowling Just Released a New Harry Potter Story Online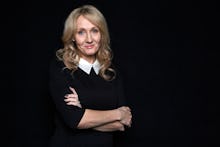 The news: J.K. Rowling just surprised Harry Potter fans everywhere in the best way possible.
The author, who is responsible for all seven mega-bestselling Harry Potter books, posted a new short story to her website Pottermore today. Titled "Dumbledore's Army Reunites at Quidditch World Cup Final," the tale is written in the form of a gossip column by Rita Skeeter, the delightfully poisonous character from the original series.
Image Credit: Pottermore
Though it reads as a newspaper column, the piece provides some clues as to what the main characters have been up to and is the first time we've seen the Harry Potter stars in grown-up form since the series epilogue. Much has changed: Harry is now nearly 34; he has a new scar on his cheek and is showing signs of grey hair.
His friends Ron Weasley and Hermione Granger are also mentioned: Ron is co-manager of Weasley's Wizard Wheezes, the joke shop started by his brothers, and Hermione is quickly moving her way up the ladder at the Ministry of Magic. The other members (and descendants) of Dumbledore's Army are also doing well: Luna Lovegood is "still delightfully eccentric," and Teddy Lupin is getting into trouble with Bill Weasley and Fleur Delacour's daughter Victoire.
Fan responses have been predictably joyous: Given that this is Harry's first appearance in seven years, Harry Potter fans are delighted by his return.
It's also a big deal that Rowling has made this postscript to her series online. It's just one more example of Rowling's commitment to experimentation and creativity within the world of writing and publishing as she's willing to churn out material in a nontraditional way. Rowling is not charging readers for access to this new story, or for membership to Pottermore, which you need in order to read it.  
The takeaway: Rowling's new story, no matter how short, is a satisfying morsel for hungry Harry Potter fans. Whether or not this means she has something else up her sleeve — Skeeter concludes the column by announcing that "my new biography, Dumbledore's Army: The Dark Side of the Demob, will be available from Flourish and Botts on July 31" — no one knows.
For now, though, we can all happily enjoy this small glimpse into Harry's grown up world.