One Image Perfectly Sums Up A New Era of German Pride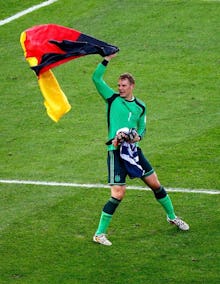 It's no longer hard to be a proud German. 
Winning the World Cup on Sunday, you saw that. 
Photo Credit: AP
Germany defeated Argentina 1-0 Sunday in Brazil, becoming the first European team to win a World Cup tournament in the Western Hemisphere. The Germans — once stoic and boring to watch — were praised for their exciting style of play, which notched 18 goals. And now, after winning one of the world's biggest sporting events, it's suddenly cool to be a German.
But being German used to come with a lot of baggage. After World War II, nationalism was seen as fundamentally entwined with Nazisim, and German nationalism has been for decades been tied to dictatorships and oppression. German nationalism didn't exists for much of the last half century — it has only become more accepted gradually since 1990 with German re-unification.
This is fundamentally weird for Americans to understand — in the U.S. we have 'Murica, and patriotism, and Manifest Destiny, and the Melting Pot, and U-S-A! chants galore. In Germany, it's taboo to even wave a German flag.
But now you see it more and more.
This was a lone girl photographed by the Deutsche Presse-Agentur in a sober-faced Paris mob, jumping with glee as Germany beat France 1-0 in the quarterfinals of the World Cup. 
It's is a portrait of the modern German identity, one budding with a renewed sense of celebration and pride, and shedding the solemn and apologetic self-loathing of the past. Lone Girl in Paris wouldn't have existed even a decade ago, when outbursts of German patriotism would have been uncommon and even frowned upon by compatriots.
German nationalism has had a long road to recovery, and the principle symbol of nationalism, the flag, has mostly carried a sinister reputation. The German flag has long been weighted by the country's history. In a line: that whole World War II thing. 
The scars of the war and what the Germans did run deep in the country, and even today anti-nationalism is fueled largely by decades-long war guilt. The German flag is still partly seen as a tool that helped stoke the embers of war.
But that all began to radically change in 2006 during the World Cup in Germany. Back then, Jürgen Klinsmann managed the national team, which was seen as one of the weaker sides in Europe. It was his job to reinvent the German team. Using the weight of his celebrity status as a former player, the New York Times notes, he instituted reforms few others would have had the capital to try, in effect changing the entire model of German soccer. Once seen as a team which prided defensive tactics, Klinsmann forced the Germans to be more open and (dare we say) attacking-minded. The Germans began winning, reaching the finals of Euro 2008, then the semi-finals at the 2010 World Cup and Euro 2012. The German team of today is a force to be reckoned with.
The Klinsmann effect didn't just create wins, it bred pride. The New York Times even highlighted this chief indicator of national mood during the 2006 World Cup: 
The young people waving the flag are part of a new generation. A 2009 survey, cutely titled "Being German: A newfound national pride in harmony with the heart," found that nearly 60% of people agreed with the sentiment "I'm proud to be German." Sixty-nine percent rejected the idea that Europe or the international community was more important than their own country. 
Seventy years after the founding of the modern Germany, the authors of that study concluded, "Germans seem to be gradually breathing freely again and overcoming their historical guilt."
World Cup wins, a bustling economy, a strong leader in Angela Merkel, peace at home and in Europe — Germans have earned the right to pride in country.
Image credit: AP
Editor's Note: This story has been updated with new information and analysis to reflect the team winning the World Cup.
Editor's Note: This story has been updated to remove language that was used without attribution to Wikipedia. We apologize to our readers for this violation of our basic editorial standards. Mic has put in place new mechanisms, including plagiarism detection software, to ensure that this does not happen in the future.