The Mississippi Republican Senate Primary Has Devolved Into an Absolute Circus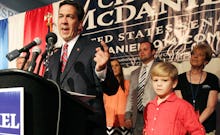 Think elections end when the votes are counted? Mississippi would like a word with you.
The Mississippi Republican Senate primary between incumbent Sen. Thad Cochran and state Sen. Chris McDaniel theoretically ended last month when Cochran won a runoff vote. McDaniel has refused to concede, though, and we could be heading to court.
McDaniel, who painted himself as the rightmost challenger to the establishment Cochran, actually won in the original primary, but not by enough to avoid a runoff election. He's now getting support in his crusade from Tea Party favorites like Sen. Ted Cruz, who said Monday that Cochran "stole" the election and that "anyone involved in criminal conduct should be prosecuted," adding that "the voters of Mississippi deserve to know the truth."
What happened? Cochran's win was thanks in large part to convincing black, traditionally Democratic-leaning voters to come out and support him. (It probably wasn't very hard, given McDaniel's comments blaming hip-hop for gun violence, appearing at an event held by a neo-Confederate group and pledging to move to Mexico if reparations are ever passed.)
Image Credit: FiveThirtyEight
Mississippi has strange primary rules that only complicate matters. Thought there's no voter registration by party, you're not supposed to vote in a primary if you don't intend to vote for that party's nominee. Given that it's all sort of honor system (a judge probably can't rule on every voter's future intentions), there's no real way to call fraud.
That hasn't stopped McDaniel, though his lawyer, Mitch Tyner, told reporters that the McDaniel campaign has already found "several thousand ineligible voters." (Tyner, embarrassingly, still has a photo of him shaking hands with Cochran up on his website.) An outside group, True the Vote, has already filed a federal lawsuit.
More craziness: The entire primary campaign has been so ridiculous, maybe it can only end in court. In May, a McDaniel supporter and two other men were arrested after breaking into a nursing home to photograph Cochran's bedridden wife. All the Cochran campaign managed was a staffer getting arrested and fired for destroying McDaniel campaign signs. Before the runoff election, the McDaniel campaign taunted Cochran's daughter on Facebook, saying "#Who'sYaDaddy?"
Between the fraud allegations, radio rants, Facebook taunts and breaking and entering, it's certainly been the most riveting primary so far this year. Most national Republicans (Ted Cruz aside) are watching warily, though. Even though someone will eventually win, it sure looks like both candidates — and the party — come out of this one losing.