The First Trailer for Ridley Scott's 'Exodus: Gods and Kings' Is Here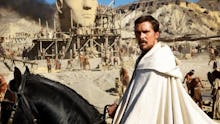 In case your desire for religious retellings wasn't satisfied by Noah, Ridley Scott (Gladiator, Kingdom of Heaven) is back to put a new spin on the story of Moses.
The first trailer for Exodus focuses heavily on the relationship between Moses (Christian Bale) and Pharaoh Rhamses (Joel Edgerton). Described as being "close as brothers" while growing up, their friendship is put to the test when Moses reveals that a power beyond his control will come down upon Egypt.
We don't get much more of the movie's plot — though the story of Moses and the 10 plagues of Egypt is no well-kept secret — but we do get to see some impressive special effects which prove this movie, if nothing else, will be a visual spectacle.
The script was written by Bill Collage, Adam Cooper and Steven Zaillian, who won an Academy Award for Schindler's List.
Exodus hits theater Dec. 12, 2014.