Why 'Transformers: Age of Extinction' Is the Most Successful Movie in Chinese History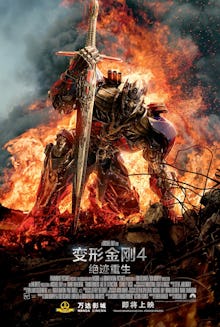 Transformers: Age of Extinction may have missed the mark at U.S. box offices, but there's one country where the film's profits did not disappoint: China.
While American production companies are just beginning to see the benefit of playing to Chinese audiences, the film's director, Michael Bay, is ahead of the curve.
The fourth film in Bay's Transformers franchise has, in only two weeks, already taken home more than $222 million in China, making it the highest-grossing film in Chinese history.
How did Bay make this happen? In an effort to support its domestic film industry, China only allows 34 foreign movies to be shown in theaters every year, with a preference for those that fit Chinese ideology and use Chinese actors and locations. As Time put it, "if a movie does well [in China], one can ultimately thank the government."
Bay played to these preferences and restrictions: Transformers 4 was partially filmed in China, where the action for the film largely takes place; it stars a famous Chinese actress (Li Bingbing), and Bay even staged a reality show to find Chinese extras for the film. If only 34 international films are released in the country annually, an action movie that spotlights Chinese locations and stars will surely get preference.
The film was also released simultaneously in China and the U.S., making pirated copies less urgently sought, which means more people buying tickets and ultimately much higher box office numbers.
By doing all this, and by Paramount Pictures partnering with the government-owned China Movie Channel, Transformers: Age of Extinction will take home 43% of its profits, instead of the 25% mandated by the Chinese government. With box office revenues shooting up in China, this means a bigger take of a booming cinema-going audience.
Other American movies have already been coproduced by Chinese companies, such as Iron Man 3, which also filmed scenes in China. But that coproduction was severely downplayed, which may have been problematic if demand for 3-D pictures (like Iron Man 3) wasn't such a growing sector of the Chinese markets. As a result, Iron Man 3 still got a huge amount of press attention in China. It also gave top billing to two Chinese stars, Wang Xueqi and Fan Bingbing, who only appeared in the Chinese version. It made more than $121 million in China, its best foreign showing by far. Good, but not Transformers: Age of Extinction good. 
Other coproductions have not done anywhere near so well. The 2011 release of the Chinese focused The Snow Flower and the Secret Fan, for instance, only managed $1.3 million in the U.S. and $6 million in China.
Now Transformers has the title of China's highest grossing movie, beating out previous favorite Avatar. It also helped that Bay was willing to put references to China anywhere and everywhere he could, including some very unsubtle product placement, from Yili Milk to someone using a China Construction Bank card in the middle of Texas.
The movie's incredible financial success is proof that movies are missing a trick if they don't attempt to enter the Chinese market. But given the constraints that a Chinese coproduction can entail, it may be difficult for other productions to make the leap. Still, Transformers 4 has given us a reason to remember it, and not just for its 17% Rotten Tomatoes rating.