Germany Broke One of Soccer's Most Hallowed Records, and Hardly Anyone Is Talking About It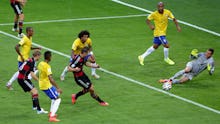 It was easily lost amid the shock and awe of Germany's stunning World Cup beatdown of Brazil: One of soccer's most hallowed records fell Tuesday in Belo Horizonte.
Miroslav Klose punched in his 16th career World Cup goal to become the top scorer in the history of the tournament, eclipsing the all-time record previously held by Ronaldo, who was in the commentary booth for Rede Globo.
Circumstances precluded any opportunity for the historic moment to sink in. Klose's 23rd-minute strike was the first of four goals in a 400-second span that extended Germany's lead to 5-0 and buried Brazil's dream for a sixth world championship.
But that's not the only reason Klose's record is flying under the radar. A closer inspection of the 36-year-old's World Cup account yields some interesting revelations. For starters, there's the conspicuous proximity of all 16 goals, all of which occurred from within 12 yards. (Though, in fairness, it's not as if Ronaldo's 15 strikes were all thunderbolts.)
Image Credit: ESPN
Germany's all-time leading goalscorer with 71 goals in 136 international appearances, Klose is the classic poacher: a strong forward presence known for his superb timing, ability in the air and instincts in the box — certainly not for the pace and mazy runs that have made global superstars of Lionel Messi and Ronaldo. He is an exponent of a German ethos that eschews the star system, relying on control, teamwork and technical ability.
Klose's workmanlike goals count just as much as a highlight-reel golazo — and no one in World Cup history is responsible for more of them. Here's a look at each of Klose's goals on soccer's biggest stage.
1. Saudi Arabia, 2002 World Cup
2. Saudi Arabia, 2002 World Cup
3. Saudi Arabia, 2002 World Cup
4. Ireland, 2002 World Cup
5. Cameroon, 2002 World Cup
6. Costa Rica, 2006 World Cup
7. Costa Rica, 2006 World Cup
8. Ecuador, 2006 World Cup
9. Ecuador, 2006 World Cup
10. Argentina, 2006 World Cup
11. Australia, 2010 World Cup
12. England, 2010 World Cup
13. Argentina, 2010 World Cup
14. Argentina, 2010 World Cup
15. Ghana, 2014 World Cup
16. Brazil, 2014 World Cup