Why Are Police Officers Allegedly Trying to Force This Teen to Get an Erection?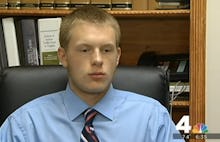 In a controversial move, police officers in Virginia are arguing that they need to force a 17-year-old boy to get an erection to make a case hinging on, of all things, explicit text messages.
It sounds a bit unconventional, but that's exactly what lawyers are alleging the Assistant Commonwealth's Attorney Claiborne Richardson for Manassas City, Va., wants to do — apparently, because the Commonwealth believes it's the best way to match the teenager's genitalia to the photos he sent to a 15-year-old girl who was, at least at one point, his girlfriend.
The boy in question, Trey Simms, has already been charged with two felonies — one for possession of child pornography (sexts from his girlfriend) and one for manufacturing child pornography (taking video of himself). If convicted, he will most likely serve a prison sentence and will be permanently placed on the sex offender registry. 
While the police have already taken photos of the teen suspect's penis, as the flaccid does not match the erect, they now want to go even further by making the teen go to the hospital to be injected with a drug to force an erection so that they can adequately determine if the erection in the video matches his. 
"He said they took him to a room and took pictures of his genitalia," the teen's aunt Stacy Bigley told NBC Washington. "I asked if they're allowed to do that, and [Trey] said, 'I tried to refuse,' which he did, he didn't want to do it. They told him if he did not they would do it by force."
While the police have "probable cause" to pursue a warrant in the matter, the steps required to literally recreate the evidence are potentialy serious intrusions of personal dignity and privacy, which, as University of Pennsylvania law professor David Rudovsky explained in a statement, are expressly prohibited in accordance with the Fourth Amendment. 
The Manassas City police have released a statement alleging Simm's sexts were unwanted. (The alleged victim has yet to speak out on the issue.) The statement also noted that so far no such procedures have occurred. But that has not mollified the parents of the teenager, or his defense attorney Jessica Harbeson Foster, who decried the case as injustice. "The prosecutor's job is to seek justice," Foster told the Washington Post. "What is just about this? How does this advance the interest of the Commonwealth? This is a 17-year-old who goes to school every day, plays football, has never been in trouble with the law before. Now he's saddled with two felonies and the implication that he's a sexual predator. I don't mind trying the case. My goal is to stop the search warrant. I don't want him to go through that. Taking him down to the hospital so he can get an erection in front of all those cops, that's traumatizing."
There seem to be myriad ethical problems with this entire case, but it's also indicative of the very negative way many adults have reacted to sexting, an arguably ill-advised phenomenon that burst onto the national consciousness following the Anthony Weiner scandal.
In Virginia, as well as 19 other states, sexting between teenagers is against the law. The motivations for these laws remains murky, however. Is it out of a desire to protect our innocent youth? Is it to enforce a kind of strict moral code, as if to pretend that children and teenagers aren't sexual beings by outlawing that behavior? Clearly, the sending of explicit images can easily become a rather devastating form of cyberbulling. But that's not the whole story. As ThinkProgress notes, "teens actually overall report positive experiences sexting, and there is no indication that it leads to more 'deviant' behavior."
Simms is due back in court this August.