The Problem With Media Coverage of the Gaza Crisis, Summed Up In One 3 Minute Video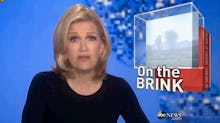 It's prime-time news on ABC, and Diane Sawyer is opening a report on a dramatic escalation in the Middle East. "We take you overseas, now, to the rockets raining down on Israel today," she says. The segment shifts to a photograph of two men near the angular wreckage of a bombed-out building. "And here, an Israeli family tries to salvage what they can," Sawyer says, her voice straining to articulate the inhumanity of the destruction. "One woman, standing speechless among the ruins."
There was one small problem with the clip: The people Sawyer describes aren't Israelis; they're Palestinians struggling to deal with the brutal bombardment that Israeli forces are raining down on the Gaza Strip.
It was an error that ABC quickly acknowledged after outrage ensued online over the clip. But it is quite the stupid mistake: Anyone with the slightest understanding of the situation — particularly a seasoned journalist like Diane Sawyer, who has even interviewed Yasser Arafat — should know that such scenes are simply not happening on Israeli soil. In many ways, it's also a symbolic error, indicative of a dominant narrative that permeates through the western media in which the suffering of Israelis eclipses that of Palestinians.
Image Credit: AP. Palestinian children from the northern town of Beit Hanoun walk through the rubble of a home destroyed by an Israeli air strike. 
Scan the headlines from the past few days and you would think that it is Israel under siege instead of the Gaza Strip. The front page of USA Today is emblazoned with "Israel: rocket fired every ten minutes" and "How Hamas reached deeper into Israel," with no reference to Palestinians. The New York Times ran the headline "Israel vs. Gaza: for now, it's rockets vs. interceptors" at a moment when the Palestinian death count was climbing toward 50 (after a great deal of outcry, the headline was later changed).
Image Credit: AP. Israelis in Tel Aviv take cover in an underground parking lot during a rocket attack fired by militants in Gaza.
The death toll in the Gaza Strip now is more than 80 people, including 20 children. Suffering has also been ignored by world leaders, who have focused their statements on condemning Hamas rockets fired from Gaza – rockets that, thankfully, have exacted a death toll of zero. In a statement, U.K. Prime Minister David Cameron said that he "strongly condemned the appalling attacks being carried out by Hamas against Israeli civilians," but refrained from using similar language about the Israeli bombardment.
Image Credit: AP. Smoke rises above Gaza after an Israeli air strike on July 10. 
It's not that the Palestinian experience is completely ignored. After all, we all know that Gaza is being bombed. But the Israeli narrative looms large and powerful over the coverage, and both everyday experience and official narratives are given a heavy stress. Jake Tapper grilled Mark Regev, the spokesperson for Israeli Prime Minister Benjamin Netanyahu, on violence against Palestinians. Slick officials like the IDF's Peter Lerner are go-to voices for reporters. In the face of so many Palestinian deaths, news outlets focus reports on Israel being under attack. In comparison, Palestinian voices are heard with a much less frequent regularity. This imbalance dehumanizes Palestinians. 
Image Credit: AP. Palestinians sift through the rubble to gather what is left of their belongings after an overnight air strike on July 8. 
Obviously, the Israeli reality must be covered with empathy and consideration. But the relative absence of the Palestinian narrative skews our story, so makeshift rockets from Gaza become more important than the terror unfolding inside the Strip. When the U.K.'s Channel 4 News heard from Khaled Abu Ghali in Rafah, the interviewer was speechless. It is rare for a Palestinian to say, live on air, that children in Gaza are desperate and dying and that, after so many years of oppression, people really do have nothing to lose.
Image Credit: AP. Palestinian mourners carry the body of three-year-old Mohammed Mnassrah, who was killed along with his parents and one-year-old brother during an Israeli air strike on July 9.
If Sawyer wanted to satirize the current media coverage of the conflict in Israel and Palestine, she couldn't have done a much better job. She mistakenly took the trauma affecting Palestinians in Gaza and presented it as Israeli suffering. To varying extents, that represents much of the media coverage on these conflicts.
Even as headlines concentrate on Tel Aviv, we need to recognize that the bombed-out buildings are Palestinian buildings in Gaza. The 82 dead are Palestinians in Gaza. The dozens of those who are children are, yes, Palestinian children in Gaza. The 1.7 million people who are now living in terror of becoming the next figure in that grim toll, without air-raid sirens or bomb shelters or an iron dome to protect them, are Palestinians in Gaza.
It's a grim picture that's inaccurately portrayed on U.S. screens and papers. And when U.S. taxpayers are paying billions to support Israel's military, it's especially important for American audiences to know what's really happening in Israel and Palestine.