These Two Women are Taking a Stand Against America's Impossible Beauty Standards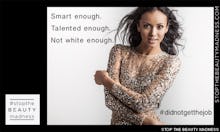 Your life's worth is not measured by the gap between your thighs. Your talent is not determined by your waist size. These may seem like simple truths, but they're important to keep repeating amidst the continuing stream of hype and propaganda targeting women and girls.
Fed up by the beauty standards' barrage, two women decided that they were done with the image rat race, done with competing, comparing and playing the ugly/beautiful game. Their response is #StoptheBeautyMadness, an image-based effort with the tagline: "We've had enough of culture narrowly defining beauty. We intend to #StoptheBeautyMadness."
Robin Rice, a self-proclaimed social thought leader who founded the campaign, said she believes that women are ready today more than ever to reject the beauty standards that they are confined to. Despite ads that continue to equate a person's self-worth and happiness with attributes like skin color, waist and boob size, women can and should stop the cycle.
"My main mission is to say if women are worried about their weight and their looks to the point that they're not actually putting themselves in the world, then we're missing out on some really extraordinary individuals and some really important conversations we need to be having," Rice told the Huffington Post. "Women need to be helping the world move in a more beautiful direction — a genuinely beautiful direction."
The images also touch on an important theme about the supposed need for women to have it all — they get fat shamed if they are overweight but called mentally unhealthy and sick if they look too thin. How do you win? 
The ads also feature other, similarly ignorant assumptions and stereotypes including ageism and people's ignorant perception of women from other races. The ads remind us that women are different and diverse, one size doesn't fit all and we long for a world that understands, appreciates and accepts that.
"In this new world, our beauty is defined by whole-self qualities, not eye-to-nose and bust-to-waist-to-hip ratios. In this world, we KNOW we are more than our appearance, our size and our shape. In this world, we are throwing off our role as sales-hypnotized consumers and getting on with the task of changing the world," the campaign posted on its website.
The society imagined by #StopTheBeautyMadness may sound highly ambitious considering how deeply entrenched some stereotypes and body image ideals are, but it is a start and one in the right direction. It's a call that many women tired of being judged by physical appearances have started answering. 
The campaign also highlights the need for women to notice what "beauty madness" is doing to girls of the next generation and the women of tomorrow. Do we really want the next generation to grow up thinking that "running like a girl" is an insult, or that all females should want to one day grow up to be pretty?
All Images Credit: StopTheBeautyMadness