The UN Is Begging Washington to Prevent a Major Humanitarian Crisis — in America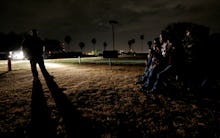 The news: The United Nations is urging America to grant refugee status to the tens of thousands of Central Americans arriving in the U.S. who do not asylum privileges. 
The office of the UN High Commissioner for Refugees (UNHCR) says that a refugee agreement may be in place as soon as Thursday, when American, Mexican and Central American officials will meet to discuss the issue in Nicaragua. A 30-year-old agreement between the nations dictating the terms under which refugee status will be applied may be updated. While any such resolution wouldn't have the force of law in the United State, the agency said, "the U.S. and Mexico should recognize that this is a refugee situation, which implies that they shouldn't be automatically sent to their home countries but rather receive international protection."
The background: More than 52,000 unaccompanied children have been apprehended crossing the U.S. border since October. A projected 60,000-80,000 will be apprehended over the course of the year. Three-quarters of them are from Guatemala, Honduras and El Salvador and the majority of them say they are fleeing both crushing poverty and drug gangs that regularly extort and murder citizens. Essentially, UN officials believe that the children arriving on the border should be treated as refugees would in other types of conflicts. UNHCR's Leslie Velez says: "Unaccompanied children and families who fear for their lives and freedoms must not be forcibly returned without access to proper asylum procedures."
Honduras has the world's highest murder rate for a nation not at war, with an astonishing 90.4 homicides per 100,000 people - for comparison, the U.S. scores at 4.7 per 100,000. El Salvador is seeing murder spike dramatically after a truce between drug gangs ended.
A 2008 law on child trafficking protects Central American children by ensuring they must be given a court hearing before being deported, a process which takes up to three years because of a huge backlog of cases. As many as 90% of the children stay with relatives or family friends in the U.S. during the hearing process.
The Obama administration has requested approximately $3.7 billion in funding to deal with the crisis. which will include enforcement, legal, and staff costs. Efforts will also be made to eliminate the huge backlog of cases which is seeing children pile up at the border.
Why you should care: At the same time Congress is doing absolutely nothing on immigration reform, recent polling indicates that finding a solution on immigration is overwhelmingly high priority even among Republicans. The Washington Post's Jennifer Rubin writes that "two-thirds of voters and 54% of Republicans support legal status for undocumented immigrants."
Congressional inaction is partially responsible for the border's current crisis. The U.S. needs to get its house in order fast, or our immigration system will increasingly become a major international embarrassment, as well as a growing domestic problem.
This story has been updated.