How LeBron's "Decision" Would Have Been Different Today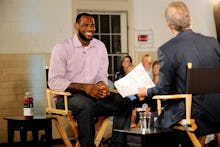 LeBron James met with Miami Heat President Pat Riley on Wednesday to discuss his free agency plans. Over the past week, speculation on LeBron's potential return to Cleveland has commanded the league's attention. Ahead of LeBron's decision, we decided to look back at The Decision, and see how LeBron would respond to Jim Gray's questions today.
What follows are real questions from Gray's 2010 interview, and how we imagine LeBron would have fielded them today.
* * * * *
Jim Gray: Thank you very much. Everybody is on pins and needles across the country, particularly those teams who are in the running for LeBron James. Are you ready to go, LeBron? Where is the powder?
LeBron: .... [still the worst opening question ever]
Jim Gray: What's new? What's been going on with you this summer?
LeBron: Just been vacationing with the family, enjoying my time off.
Listen, we lost the NBA Finals, which was still a great accomplishment considering we had made it for four consecutive years. Wait, actually, we got completely annihilated in the Finals. Dwyane Wade was clearly not right, the Spurs were able to mix and match with the depth on their roster while we were giving starters minutes to Rashard Lewis and Ray Allen.
In any other scenario, even a close series loss to the Spurs, the decision to come back is much easier. There was no reason to leave Miami heading into the Finals. There was not a year-long referendum throughout the season on where I should go, but leaving Miami never made sense.
But then, the free agency period opens, we just came off a brutal defeat in the finals, I'm not sure if my running mate can play at a high level for the next couple of years, and suddenly everything else looks really enticing.
Jim Gray: What have you thought about this process?
LeBron: I didn't want the same circus atmosphere that I created in 2010, when I invited all those teams to meet me in downtown Cleveland. It was my first time going through the recruiting process, and I took some advice from people close to me — like Maverick Carter — which in retrospect sent me down the road to become one of the greatest villains in sports.
Look at what Carmelo Anthony is doing this summer. There's no hype like what went down in 2010, but this is his first time doing the free agency thing, and he got to see billboards of himself in another uniform, a movie trailer narrated by Tobey Maguire, and was wined and dined by some of the greatest franchises in the league.
I wanted to avoid all that. But there's nothing I could do to control the flow of information. All it takes is one rumor or one unnamed source to sent this whole thing into a spiral.
And that's exactly what happened this week.
Jim Gray: What did you expect from this process?
LeBron: This is how I wanted things to play out. I wanted to give Pat Riley the chance to upgrade the roster, to do everything that he could to bring in fresher guys. Yes, I want a max contract because I'm the best player in the world and I deserve to be paid like one. Yes, Chris Bosh and Dwyane Wade have to make sacrifices financially. And yes, after all that, I still expect Riley to make things work. As someone who's made it to four Finals, and essentially holding the fate of the entire league in my hands until I make my decision, I think it's totally within my right to see whether Miami makes the most basketball sense for me.
People like to talk about Cleveland as a viable destination. And yes, from a personal standpoint, it makes a lot of sense. But this is a basketball decision for me. I'm not weighing the pros and cons of the two cities. That definitely can play a part. But I'm looking at the rosters of the two teams and seeing what makes sense.
I know what I can do with the Heat. They've made some moves, not game changing moves, but Shabazz Napier is a personal favorite, and having Josh McRoberts and Danny Granger take the minutes previously occupied by players like Shane Battier and Michael Beasley is an upgrade. Plus if I come back, we still have the Big Three.
The Cavaliers are a great situation, of course. The LeBron James Grandmothers' Fan Club would be ecstatic to see me come home, and I've heard the pitch from Don Draper. Kyrie Irving could be a budding superstar and I've never played with a point guard of his caliber. We've yet to find out what the ceiling will be for Andrew Wiggins in the pros, but there's a core there for the future. But it still feels like a team that would make more sense for me in a year or two. Strip away the narrative and the nostalgia of my return home, there are as many question marks on this team as the one in Miami.
Jim Gray: Who in this process, LeBron, have you taken advice from and who has had the biggest influence?
LeBron: The most influential has been my agent Rich Paul. He's been the point of contact for all interested teams.
Did you know, we met in 2002 because he was wearing an authentic Warren Moon jersey in the airport when I was looking like a square in a replica. I found out he sold authentic jerseys out of his car, and we became very close. Paul left Creative Artists Agency last year and started his own group called Klutch Sports Group and became my agent. (You can read his entire backstory here.)
This is obviously not my first rodeo dealing with free agency, but it is for him. What you want is for your agent in any scenario is to comb through the market and make sure all available options have been explored in detail. This is a decision for me, but also a great showcase for one of my closest friends who also happens to be my agent.
If he can handle and manage the entire process for me, what does that say about what he can do for other clients in this league?
Jim Gray: What was the major factor, the major reason in your decision?
LeBron: It's a basketball decision. I understand why some folks in Cleveland will think that the fact I'm even considering them is putting the city through another emotional wringer. But I'm keeping my options open until I make a commitment.
Jim Gray: How deep of an evaluation do you have to do to go through that to figure out tomorrow, next year and beyond, that equation, that winning?
LeBron: It's important. I'm turning 30 in December, and even though I've been playing at such a high level for so many years now, even I understand that this will not be the case forever.
I feel much less pressure now that I've won two titles, but I also know there's more work to be done. Miami still makes sense to me, but only in the short term. Cleveland makes sense for the obvious reasons, but maybe only in the long term. That's the dilemma here. So, it might make sense for me to sign a one or two year contract with the Heat, and perhaps the Cavaliers or some other team will emerge as an attractive option when I'm 31 or 32.
Not every player gets to control the entire NBA landscape like I can at the moment. So I'm definitely going to take advantage of it, both in the present and keeping my options open in the long run.
Jim Gray: Are you still a nail-biter?
LeBron: ..... [Seriously? I wish I had Maverick screen these questions beforehand]
Jim Gray: How many people know your decision right now?
LeBron: Even I don't know yet, Jim. We're just having a conversation here.
Jim Gray: When did you decide?
LeBron: ..... [Did he not just hear what I said?]
Jim Gray: So does the team that you're going to, that you'll announce in a few minutes, do they know your decision?
LeBron: There will be no decision today, but be sure to stay tuned to Adrian Wojnarowski on Twitter. He'll probably know before I even do. Just remember, if you read a rumor about Yao Ming coming out of retirement for the Heat, it's a fake account. Thank you all for tuning in.
* * * * *
(A super hat tip to Jason Gallagher, who re-watched The Decision yesterday and wrote about it. The piece inspired this idea, and helped provide the transcript to Gray's questions)