This Sobbing Announcer Shows Just How Much the World Cup Means to Argentina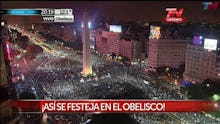 All of Argentina celebrated into the night after La Albiceleste defeated the Netherlands in a penalty shootout to advance to the World Cup final. 
That Wednesday's match took place on Argentina's independence day — as the nation celebrated its 198th birthday — only doubled the sense of patriotism that surged across the country of 40 million.
But nothing reflects Argentina's joy quite like Pablo Giralt's commentary of the winning penalty. 
Giralt, calling Wednesday's match for DIRECTV Sports, began sobbing uncontrollably after Maxi Rodriguez blasted his spot kick through Dutch goalkeeper Jasper Cillessen to seal the victory — an outpouring that lays bare just how much the World Cup means to Argentina.
It not the first time Giralt's emotions got the best of him in the booth. It's not even the first time this month. The commentator succumbed to tears earlier in the tournament, when Ángel di María's 118th-minute winner lifted Argentina past Switzerland into the quarterfinals.
Rodriguez's goal ignited widespread celebrations in Buenos Aires. This video, apparently recorded from the neighborhood of Saavedra, shows the sheer wall of sound prompted by the winning goal.
Argentina meets Germany in the World Cup final at Maracanã Stadium on Sunday (3 p.m. ET, ABC). Spare a thought for Giralt if they win.