This Viral Photo Sums Up the Relationship Between President Obama and Republicans Right Now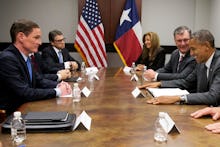 Who says the president can't enjoy himself?
Now there's no way to extrapolate anything serious from the photo above, in which Barack Obama seems to crack up and Texas Gov. Rick Perry seems to seethe. It sure looks, though, like Obama cracked up the cool kids at the lunch table. Maybe he made fun of Perry's thick glasses, or maybe he joked about how he wasn't given a tiny, label-less water bottle. Whatever happened to Southern hospitality?
It's not too much of a stretch to believe that Perry might be irate at the meeting. He's been sniping at Obama in advance of the president's visit to Texas, even threatening not to shake his hand.
The background: Obama visited Texas in response to the country's latest border crisis — an influx of undocumented child migrants from Central America. Many come to escape violence in Honduras, El Salvador and Guatemala, only to be held at the border and eventually turned back.
Image credit: Department of Homeland Security via Mother Jones
Republicans have called the influx a failure of immigration policy on Obama's part, while conservative activists have blocked buses carrying immigrants to screening facilities. While those on the right chide the president for not being enough of a hardliner, immigration advocates call him the "deporter in chief" for sending away more undocumented immigrants than any other president.
Obama has his own plan — $3.7 billion in emergency funding to secure the border. GOP leaders have expressed skepticism about the plan, calling it a "blank check." That's idiotic; it's a $3.7 billion check, guys. The amount is pretty specific.
The backlash: Obama and Perry seem to have very different takeaways from their meeting. The president said it went well, according to CBS, noting, "There's nothing that the governor indicated he'd like to see that I have a philosophical objection to."
Perry, meanwhile, immediately went on Fox News and blasted Obama: "A leader acts, and what I haven't seen out of this president are actions that makes me think he understands what's going on."
Both sides are close on one point: 52,000 unaccompanied child migrants since October is a lot to deal with. But Obama wants to address the problem with emergency funding, and Republicans don't want to spend the money. (Some, in a cynical reading of the situation, might even prefer things politically if Obama did not have the flexibility to deal with the problem.) As the crisis continues, it looks more and more unlikely that both sides of the table will be smiling.