Why the American TV Industry Will Never Understand the Glory That Is 'Orphan Black'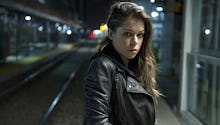 Of all the Emmys oversights people have been gabbing about for the last 24 hours, the one garnering the most fan rage is the snub of Tatiana Maslany for her starring role on Orphan Black.
Apparently, playing an average of five lead characters on any given episode doesn't warrant a best lead actress nomination. Her omission from the list — for the second year running — has caused many to go down the hypothesis rabbit hole and conjecture why this knockout performance will never get the recognition it deserves. The answers are pretty clear.
Maslany plays Sarah Manning. And Alison Hendrix. And Cosima Niehaus. And Rachel Duncan. And Helena. Among others. And these aren't all garden-variety female characters: Sarah is a tough con-artist, Alison a soccer mom with an addictive personality, Cosima a bisexual science student, Rachel a cold researcher and Helena a crazy zealot who has carved wing patterns into her back.
Maslany manages to bring each of these characters to life with such mastery that it is amazing to think one actress could portray so many types of people at once. The breadth of her roles is at least as impressive as any of the best actress nominees who made the list, but there are a handful of reasons why the Emmys didn't (and perhaps never will) recognize Maslany.
Despite being a real feat of acting, Orphan Black is a cult hit with a relatively new actress in a relatively niche show — all things that the Emmys tend to ignore. On top of that, Orphan Black is fundamentally a sci-fi program, a genre that the Emmy voting committee is notoriously unforgiving of. 
Even with their acceptance of multiple platforms, the Emmys are traditional. The voters favor celebrities and fan favorites — and are historically suspicious of "genre shows" with one notable standout being Lost's Best Drama Series win in 2005. This sci-fi avoidance is one of the reasons why we'll be lucky to ever see Maslany's name as a nominee. It also explains why fan favorite The Walking Dead only received two nominations this year, neither of them for its actors. 
In the age of high-fantasy television, with Game of Thrones securing the most nominations and the BBC commissioning a new TV show to ride on the success of HBO's Brit-heavy adaptation, why is science-fiction still looked down upon? Surely a more pro-fantasy world is a more pro-sci-fi world, as well. Or at least one would hope.
The reality is, Game of Thrones is the most-watched show in the history of a decorated network. Orphan Black has a far smaller viewership: It's solid airing gets close to 1 million viewers, which is hardly a huge audience share.
While we may never know the real reasoning for the snub, we cannot ignored that Maslany is doing something none of her contemporaries are doing on television today. She's forming an entire ensemble cast alone. In fact, the only other actress to toy with the same multi-character elements was Toni Collette in United States of Tara, who played a character with dissociative identity disorder. Collette won the Emmy for Best Actress in a Comedy in the show's first season, and was nominated for its second.
Maslany is of course not the only actress who people feel were snubbed this year. Maggie Siff from Sons of Anarchy, Emmy Rossum of Shameless, Vera Farminga of Bates Motel and The Mindy Project's Mindy Kaling — who announced the nominations — all received a great deal of support when they, too, were not nominated.
Perhaps what the Orphan Black oversight reveals is bigger than just one show. It is less the tragedy of Orphan Black not receiving the attention it deserves and more the tragedy of what the Emmys are overlooking — actors and actresses giving incredible performances on shows slightly outside the ratings norm.