A Music Archive Just Uploaded 13,000 Classic Live Concert Videos to YouTube. Here's What to Watch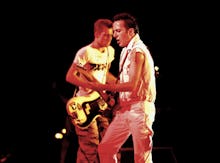 If you don't have weekend plans, the 2,000 hours of pristine, classic concert footage just uploaded to YouTube in 13,000 videos is a good place to start.
Music Vault, which is a division of Wolfgang's Vault (which sells music-related posters, apparel and photography, among other things), has been working on this massive video project for two years, gathering footage from a variety of venues and festivals across the past five decades. It's an ongoing process, and there are more videos to come, but this first upload has suddenly opened some of the best concerts — historic moments once lost to anyone who wasn't there — back up to the world. 
There's something for pretty much everyone here: You've got your throwback '90s boy bands (Backstreet Boys, Sugar Ray), your current indie darlings (Dawes, Local Natives), your classics (the Who, Van Morrison), Red Hot Chili Peppers, Wynton Marsalis, the Roots, Wilco, Jefferson Airplane and, of course, Bruce Springsteen's rendition of "Santa Claus Is Coming To Town," performed in mid-September.
I've spent the last few days doing nothing but eating, (some) sleeping and wading through the annals of whatever Woodstock '99 was to find the absolute gems in this first wave of material. I've also developed severe dark circles under my eyes and some sort of Pavlovian response to the first four seconds of the Bud Light Lime commercial that plays before nearly every YouTube video, but here are 16 performances, all lovingly remastered by Music Vault, that you need to watch now. 
1. "Rhiannon" by Fleetwood Mac (1975)
Fleetwood Mac frontwoman Stevie Nicks wrote this song about a Welsh goddess, and then people started to think she was a crazy witch. "I stopped wearing black for like a year," she told the Los Angeles Times recently. Here, Stevie wears what looks like an all-white outfit in an attempt to distance herself from accusations of witchcraft, but that fiery look she gets while singing about a woman possessed probably didn't help her case.
2. "Spanish Bombs" by the Clash (1980)
The Clash do charmingly frenetic, sped-up versions of songs off their classic 1979 album London Calling during this 1980 concert. This was the height of their fame — the period right after they released one of the greatest albums in rock or punk history. Music Vault offered up the footage of the titular track a few months ago, but it's worth watching the band fly through "Spanish Bombs" and "Janie Jones" too. 
3. "Miles Runs the Voodoo Down" by Miles Davis (1970)
Now would be a good time to start familiarizing yourself with the great jazz musician Miles Davis, since it looks like Don Cheadle's biopic of the trumpeter is actually going to get made. "Miles Runs the Voodoo Down" comes off of Davis' 1970 masterpiece Bitches Brew. The sheer strangeness and technical brilliance of this performance is a perfect reminder of why Davis will never be forgotten.
4. "Push It" by Salt-n-Pepa (1994)
The two ill-fated '90s revivals of the iconic Woodstock Festival (the original lineup featured the Grateful Dead, Jimi Hendrix and the Who, among other greats) both had really eclectic lineups. Where else would you have been able to see Elvis Costello and Limp Bizkit, Jimmy Cliff and Nine Inch Nails (who put on a great show that Music Vault already uploaded in its entirety a few months ago)? Nowhere else, that's where. Energetic classic hip-hop trio Salt-n-Pepa provide one of the better performances (Music Vault's got their whole set compiled here), complete with awesomely '90s outfits and great choreography. They also do a weird thing mid-set where Pepa yells at a man (men everywhere, really) for peeing on the toilet seat. 
5. "Because the Night" by Patti Smith (1979)
Bruce Springsteen cowrote this song with Smith during the sessions for his classic album Darkness on the Edge of Town. The punk goddess came back with a vengeance at the tail end of the '70s after dancing herself off a stage and breaking her back in 1977, causing her to take a break from live performance for a while. 
6. "Johnny B. Goode" by Chuck Berry (1972)
John Lennon once said, "If you tried to give rock 'n' roll another name, you might call it Chuck Berry." 
One of the founding fathers of rock, Berry hit a rough patch in the '60s and ended up in jail. Upon release, he went back on the tour circuit, recruiting musicians to play as his backing band wherever he happened to be (one time, he played with a young Bruce Springsteen — he's everywhere).
7. "Psycho Killer" by Talking Heads (1980)
There is no lack of Talking Heads concert footage already available to fans (there's a whole movie of one of their 1984 shows), but this is a pretty excellent glimpse of David Byrne making crazy eyes and crazy sounds. 
8. "Red Hot Mama" by Parliament (1978)
George Clinton, the godfather of funk, leads his groovy collective Parliament (not to be confused with Funkadelic, which had the same members as Parliament but played "band-format psychedelic rock" while Parliament was more of a "funk free-for-all") two years before he dissolved both groups and continued on as a solo artist. Both Parliament and Funkadelic scored Billboard hits in 1978, so this was a good year for the collective as a whole.
Also, pretty much everyone in this video has a great hat. 
9. "I Was Dancing in the Lesbian Bar" by Jonathan Richman (1998)
Quirky singer-songwriter Jonathan Richman, who founded his classic band the Modern Lovers in 1970, could compete against David Byrne in a "crazy eyes" competition. He's really got the frenzied, on-the-edge-of-a-nervous-break look down pat. And he has some sweet, sweet dance moves. This is a good look at his particularly peculiar and influential brand of Americana.
10. "When It's Sleepy Time Down South" by Louis Armstrong (1970)
The Newport Jazz Festival, which helped bring great jazz first to a beachy Rhode Island Town and then to New York City, is celebrating its 60th anniversary this year. Honor the legacy by watching Louis Armstrong cheerfully perform at the 1970 festival, even though he was in poor health (he died of a heart attack the following year). 
11. "Today" by the Smashing Pumpkins (1994)
Billy Corgan, the lovable and cuddly frontman of the alt-rock band Smashing Pumpkins, had hair at some point before he morphed into the Moby lookalike we all know him as today. This video proves it. 
It also serves to remind that "Today" is one of the best shoegaze-pop numbers of all time, setting the tone for an infinity of imitators in the years following.
12. "Don't Put the Brakes on Tonight" by Iggy Pop (1980)
Despite (or perhaps because of) his intensifying drug addiction in 1980, rocker Iggy Pop manages to put on a captivating performance of a classic song, throwing funny faces at the end of the number before ambling offstage. Thirty-four years later, he's still playing shirtless.
13. "Something's Got a Hold On Me" by Etta James/Carlos Santana/John Lee Hooker (1986)
The circumstances that led to soul songstress Etta James joining forces with major league axe-player Carlos Santana and bluesman John Lee Hooker are unclear, but whatever! It's pretty clear that everyone is having fun. You might recognize the song, which has been sampled by both Flo Rida and Avicii. 
14. "Fast Car" by Tracy Chapman (1988)
Tracy Chapman is a rare songwriter — she managed to make a tremendous impact but is very rarely discussed these days. 1988 was her big year: Her self-titled album came out on Elektra Records and hit the No. 1 spot on the Billboard charts, and then she won several Grammys. This song remains one of the most poignant portraits of poverty in pop music.
15. "This Town Isn't Big Enough for Both of Us" by Sparks (1976)
Many a 20-something has adored Sparks ever since they made a guest appearance on Gilmore Girls in 2006, but they've had a prolific career that began in 1971. Years before brothers Russell and Ron Mael hung out in Stars Hollow with Rory and Lorelai, they rocked some truly great hair and utilized the falsetto to great effect.
16. "Heart of Glass" by Blondie (1979)
Debbie Harry, who just turned 69 on July 1, has been a consistently great performer across multiple decades. This is her at the height of her career, though, back when Blondie was ushering in a new age of girl-led rock and pop that's with us to this day.