12 Asian Writers Who Should Be Taught in Every High School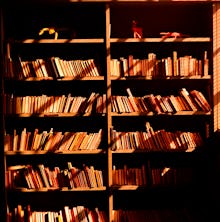 The books assigned in American high schools run the gamut from Shakespearean dramas to Victorian romances. We learn about the punishments of Puritan society, lovesick Jazz Age tycoons and growing up in the American South. But whole swaths of stories and people are often excluded from must-read lists.
Asian-Americans are part of a rich history, with stories ranging from Chinese railroad workers in the 19th century, to Filipino migrant workers in the 1930s and beyond, to immigrants escaping the Chinese Communist regime, to today's American-born Asians detached from traditionally Eastern values and caught in limbo. Along with the tycoons and the Puritans, schools should include these stories as well.
Here are 12 authors of Asian descent who have shared their personal stories of struggle and triumph, amid themes of civil unrest, cultural transition and assimilation, prejudice, alienation and tradition versus modernity. Their words would enrich any reading list.
1. 'America Is the Heart' by Carlos Bulosan
Image Credit: Amazon 
Bulosan's semi-autobiographical novel, published in 1946, is one of the earliest books published from an Asian-American perspective. Bulosan recounts his life starting from a farm in the Philippines, to pawning land in order to finish school, to his journey to the U.S in 1930 and the subsequent prejudices and abuses he endured as a migrant worker.
2. 'The Woman Warrior' by Maxine Hong Kingston
Image Credit: Amazon
The Woman Warrior, a collection of creative non-fiction memoir pieces, has been taught in universities and high school classrooms since its publication in 1975, and should be considered a canon mainstay. The autobiographical stories often blend with Chinese folktales, such as the story of Fa Mu Lan. They focus on immigrant mother and daughter relationships in the U.S., the tension between different cultures and generations, and, ultimately, finding one's own voice.
3. 'The Joy Luck Club' by Amy Tan
Image Credit: Amazon
Amy Tan's 1989 best-seller, later adapted into a film, is perhaps still the most well-known Asian-American novel. The story, structured around the Chinese game of mahjong, delves into the mother daughter relationships over four different Chinese-American families in San Francisco. Like The Woman Warrior, the novel explores shifting immigrant identities and the passing of familial stories between generations.
4. 'The Namesake' by Jhumpa Lahiri
Image Credit: Amazon 
Lahiri's short story collection, The Interpreter of Maladies, won the 2000 Pulitzer Prize for Fiction. Her first novel, The Namesake, explores many of the same themes, such as conflicted feelings of isolation and resentment over one's cultural background. The story follows a Bengali couple who immigrate to the U.S. and their American-born son, Gogol. The son struggles with his identity as an Indian-American and the sound of his foreign name. What The Namesake perfectly captures is that tight rope walking between embracing the past and assimilating into the future. 
5. 'FOB' by David Henry Hwang
Image Credit: Amazon 
Before Eddie Huang's humorous memoir Fresh off the Boat, there was Hwang's synonymous, first play, 1980's FOB from 1980. Hwang, who is best known for his Tony Award-winning play M. Butterfly, highlights the tension between American-born Asians versus those who are "FOBS" or recent immigrants. The play features "ABC's," or "American Born Chinese," and their general disdain toward recent Chinese immigrants as "clumsy, ugly, greasy." Through only three characters, the play questions how much of one's identity is passed on and how much is informed by one's surroundings.
6. 'Hunger: A Novella and Stories' by Lan Samantha Chang
Image Credit: Amazon 
Chang's debut consists of a novella and five short stories, all of which explore themes of unfulfilled dreams, success and ambition, and acceptance. Through beautiful prose, the stories expose raw emotions in immigrant families, from a Chinese couple who moves to Iowa and leaves behind any trace of their culture, to a violinist father who devastatingly forces his dreams on his daughters.
7. 'Norwegian Wood' by Haruki Murakami
Image Credit: Amazon 
Murakami's coming-of-age novel is perhaps the most accessible of his works. Set in the late 1960s, with a backdrop of Japanese student protests against the government, the story depicts adolescent love and loss. The protagonist, Toru Watanabe, is reminiscent of Holden Caulfield, with his introspection and melancholy and his feelings of isolation from his peers.
8. 'Typical American' by Gish Jen
Image Credit: Amazon 
Jen's darkly humorous novel follows Lai Fu Chang, a negligent and impulsive Chinese immigrant who comes to the U.S. in 1947 to study for his Ph.D. He soon forms a family in New York with his sister and her friend, and inadvertently threatens to put them in financial ruin while chasing the American Dream of riches. 
9. 'Love Marriage: A Novel' by V.V. Ganeshananthan
Image Credit: Amazon 
Ganeshananthan's 2008 debut focuses on generations of marriages in a scattered Sri Lankan family, including arranged marriage and "love marriage." First-generation American Yalini is torn between her ancestors' traditions and modern-day expectations as she learns her family's extensive history, with the past informing the present. 
10. 'Waiting' by Ha Jin
Image Credit: Amazon 
Waiting, which won the 1999 National Book Award, is based on a true story that Jin had heard when visiting an army hospital in China. The novel depicts the restriction of individual freedoms under communism. Against the backdrop of an evolving Communist China from the 1960s through 1980s, the story revolves around an army doctor, Lin Kong, who is unhappily in an arranged marriage and longs to be with his love, a nurse named Manna Wu. But with his suppressed emotions, the question of whether Kong can truly love becomes the story's ultimate focus.
11. 'Native Speaker' by Chang-Rae Lee
Image Credit: Amazon 
Lee's first novel, published in 1995, features a Korean-American industrial spy who is stuck between his Korean identity and his American identity. The story depicts Henry Park's successes and failures both at work and in his marriage, as well as father and son relationships. Because of his strict upbringing, Park hides his emotions — a trait that serves him well as a spy, but less so in marriage and coming to terms with the death of his young son.
12. 'Taipei' by Tao Lin
Image Credit: Amazon 
Lin's post-postmodern works rarely depict race and foreign settings, but his semi-autobiographical novel Taipei includes both. It's a current, coming-of-age story following Paul, who travels from New York to Taipei, Taiwan to confront his family''s roots. He is constantly traveling, crossing boundaries and never really at home. Like Lin''s other works, such as Eeeee Eee Eeee, it is a meditation on questioning truth and what it means to be alive today.