This Outrageous Charity Ad Shows a Black Child Being Fed Like a Dog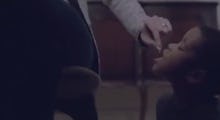 Feed A Child, a nonprofit based in South Africa that aims to end world hunger, recently committed the ultimate charitable faux pas: They deeply offended the very community their work aims to serve.
In a commercial that first premiered online earlier in July, a white woman feeds a black child as if he were her dog.
The implication of the ad is straightforward: The average domestic dog eats better than millions of children. The disturbing image of a black child behaving like man's best friend is more demeaning than it is thought-provoking. 
The image of a starving black child who acts like a pet evokes the haunting ills of colonization, slavery and apartheid. The ad itself reinforces such reprehensible treatment as a white woman assumes ownership of her black "pet."
Luckily, it didn't take long for the public to respond. The outcry from the ad was so strong that Feed A Child and public relations agency Ogilvy & Mather removed it from the web and apologized for causing undue duress. However, the nonprofit defended the advertisement and claimed it was "intentionally emotive" as to "trigger the necessary awareness on this issue and to generate engagement and contributions." 
The advertisement itself is not defensible. It should not have ever aired. Even if it was created with the intention of making a difference, it dehumanizes the people it's trying to help.
This shameful attitude is not confined to the humanitarian world. It even extends into online dating sites such as Tinder, where a number of members use logos of charities as their profile pictures to attract potential mates. The images themselves, compiled on Tumblr blog Humanitarians of Tinder, don't directly help the people in need. Rather, they become tokens and props for a privileged person's fleeting moment of ego boosting. The same problematic behavior often creeps up on Facebook as well.
It's all part of a series of events that Nigerian-American writer Teju Cole dubbed the "white savior industrial complex," whereby Africa serves as the flat, stereotype-laden back drop for the humanitarian fantasies of western do-gooders.
Many of these failed and self-indulgent attempts at generating support for otherwise important causes were panned in a 2012 parody "Africa for Norway," which turns the tables on western paradigms of providing supposedly well-intentioned assistance while disregarding the racist undertones: 
But perhaps it's actually possible for humanitarian organizations to produce eye-catching advertisements while helping out those in need. However, doing that requires a healthy dose of self-reflection on one's own privilege. This process of reflection will hopefully elimate quick buck ads that rely on hyperbolic and racist messages.
It's not that people don't care about starving children — they're just tired of how nonprofits recklessly go about helping.