How Germany Is Using Big Data to Win the World Cup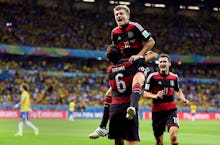 The day before Germany's matchup with Brazil in the World Cup semifinals, German assistant coach Hansi Flick called the team's shot.
Germany, Flick revealed, had spent the past two years analyzing the Brazilian players' every move. Die Mannschaft, in other words, had done more research ahead of their semifinal than perhaps any team in the history of soccer.
It looks like the work paid off. Despite trailing Brazil in traditional statistical categories such as shots and possession, Germany trounced the host nation 7-1. Yes, Brazil's star players Neymar and Thiago Silva weren't playing, but Germany was able to pick apart the Brazilian defense in an unprecedented manner.
Could the German team's embrace of big data have been a primary factor in their victory?
We may never know how exactly Germany's game plan was affected by their advanced statistical research, but what we do know is that the team ingeniously utilized exactly the type of people who would be excited to study every miniscule aspect of a game: students.
According to Flick, since 2012 about 50 students at the German Sport University Cologne had pored over countless hours of footage of the Brazilian players, noting their running patterns, their reactions to fouls and every other aspect that could possibly be quantified. Once never-before-noticed patterns started to emerge, the findings reportedly became a key part in how the coaches prepared their players for the game.
Known as "Team Cologne," the students had been under the tutelage of professor Jurgen Buschmann, who has been providing statistical research to the German national team ever since being asked by then-coach Jurgen Klinsmann in 2004.
Getting students to scout the enemy is hardly the only way Die Mannschaft uses big data, though. Perhaps more importantly, the team's coaches use a customized data system engineered by business software firm SAP to monitor each athlete during training, both on the field and in the gym.
"[The system] identifies individual details of each player like distance covered, shots on goal and correct passes in matches," a spokeswoman for business software firm SAP told ITWeb Africa. "The software is intended to help customize each player's training, as it objectively helps identify individual strengths and weaknesses."
Upstart German club TSG 1899 Hoffenheim, which finished ninth in the Bundesliga last season, is known to employ a similar SAP real-time, data-tracking system. 
These individually tailored systems are quickly becoming expected of teams that can afford the investment, including Premier League and Major League Soccer clubs.
Regardless of these innovations, the Germans would have had a talented team. But using these systems, Germany now has some of the fittest players in the world following some of the most advanced scouting reports in the sport. No wonder they are the clear favorites to take home the World Cup trophy against Argentina on Sunday.