A Simple Explanation for Why the 'Polar Vortex' Is Returning in the Middle of July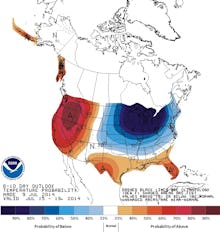 It's baaaaack.
The polar vortex that iced over sidewalks, froze traffic and chilled spines across the East Coast in February is making a comeback on the heels of Typhoon Neoguri.
Thankfully it couldn't have picked a better time to return. The typically sweltering temperatures of the summer will clamp the vortex's impacts, so 90-degree afternoons might look more like 50-degree spring days for Midwesterners. Depending on how long it hangs around, the cold wave could set a record for cool summer temperatures.
Although its roots are thousands of miles to the west, Typhoon Neoguri is setting off a chain reaction of weather shifts across the United States.
The weather feature is caused by air near the North Pole circulating downward. Polar vortexes exist in both hemispheres. 
Here's how it works: Because it's so large, Neoguri will transform the power source for most of the weather in the northern part of the planet. As a result, the storm will push the jet stream much farther north than it typically reaches, creating a ridge of wind. On the other side of the ridge, the stream will get pushed farther south, creating a valley. While the west coast will get heat from the ridge, the east coast — sheltered inside a pocket of low temperatures in the valley — will see colder-than normal days.
Experts say the exact cause of the polar vortex phenomena is still a subject of research.
"A lot of it is kind of random chance," said Dan Thompson, National Weather Service meteorologist, to the Detroit Free Press, adding that it's impacted by interactions as far away as the Pacific Ocean.
While the East and Midwest will see a massive cooldown, the West Coast could receive a push of high pressure, making the California summer extra hot. Rain showers could begin to arrive in the Midwest Saturday afternoon and persist into Sunday. The summer "polar vortex" is expected to dissipate by the end of next week.
This story has been updated.