No, Smelling Farts Won't Actually Prevent Cancer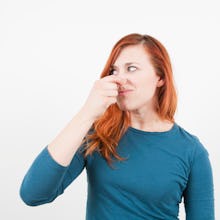 The news: In what could have been the most ridiculous scientific "discovery" of our generation, TIME and a number of other media outlets reported on Friday that a University of Exeter study had concluded that "smelling farts would actually prevent cancer, among other diseases."
And they got it totally wrong.
"Although the stinky gas can be noxious in large doses, the researchers seem to think that a whiff here and there has the power to reduce risks of cancer, strokes, heart attacks, arthritis and dementia by preserving mitochondria," TIME reported.
Within hours of publishing, the story went viral, garnering hundreds of thousands of Facebook likes and shares. In other words, people were excited to smell farts and prevent cancer (weird, right?)
But there's a problem: That's not what the study actually says.
The study, called "The synthesis and functional evaluation of a mitochondria-targeted hydrogen sulfide donor, (10-oxo-10-(4-(3-thioxo-3H-1,2-dithiol-5-yl)phenoxy)decyl) triphenylphosphonium bromide (AP39)" and recently published in the Medicinal Chemistry Communications journal, stemmed from some research on hydrogen sulfide's effect on mitochondria — not cancer, not farts, not people smelling farts.
According to the researcher's findings, hydrogen sulfide is naturally produced by our body and may be a part of a compound (AP39) that helps strengthen mitochondria, our body's "powerhouse" of cells, which drive energy production in blood vessel cells and help fight certain diseases. The purpose of the study was to see how much that compound could actually help combat this diseases. 
However, the findings don't go anywhere as far as claiming smelling farts prevents cancer. The university's press release was slightly misleading by titling itself "Rotten Egg Gas Holds Key to Healthcare Therapies," and the study isn't exactly explained clearly.
False science went viral. The story was also picked up by several smaller publications (like this one and this one), which mostly based their stories off a university press release and one golden quote from Dr. Mark Wood of Biosciences, at the University of Exeter:
"Although hydrogen sulfide is well known as a pungent, foul-smelling gas in rotten eggs and flatulence, it is naturally produced in the body and could in fact be a healthcare hero with significant implications for future therapies for a variety of diseases."
Or, as TIME and co. understood it, "[...] researchers seem to think that a whiff here and there has the power to reduce risks of cancer, strokes, heart attacks, arthritis and dementia [...]" 
Of course, you can argue that Time was just extrapolating the information and making educated inferences. But that's just not the case here: The science is too basic and the claim is too broad.
The good news is: You don't have to start smelling farts.