You Can Now Tell When Congressional Staffers Are Tampering With Wikipedia Entries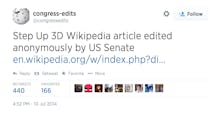 The news: Members of Congress have no shame editing their Wikipedia pages. Luckily, a new tool lets Americans keep an eye on the encyclopedic shenanigans of our elected leaders.
A Twitter account, @congressedits, tweets whenever someone from a congressional IP address edits Wikipedia. So far, it's gotten most attention for a few hilariously odd pages to edit — one staffer (or representative) made a slight change to the sentence structure of the plot summary of Step Up 3D, while another added Barack Obama's recent run-in to the 'horse head mask' page.
Not all fun and games: The seeming randomness makes for a fun follow, but the real value lies in how politicians and their staff members decide to address their own pages, or those of their allies or rivals. These representatives are blatantly trying to cover their tracks and re-write history. And in many cases, they'd get away with it if it were not for something like this twitter account. 
A recent edit, for instance, changes libertarian-leaning Rep. Justin Amash's (R-Mich.) pre-election biography to call him an "attorney" rather than a "corporate lawyer."
Other seemingly more benign edits include a grammatical fix for the page of Rep. Kyrsten Sinema (D-Ariz.) and a change in the shading color of previous electoral opponents of Rep. Robert Hurt (R-Va.)
Caught red-handed: Is a Wikipedia article really worth the attention of politicians who have elections to win and (theoretically) legislation to craft? History points to yes.
The list of controversies of congressional edits to Wikipedia is notable enough to, well, have its own Wikipedia article. In 2006, the Lowell Sun found that an intern of then-Rep. Marty Meehan (D-Mass.) had been ordered to replace Meehan's page with a staff-written biography, deleting references to his broken campaign promise to only serve eight years and his $4.8 million campaign account, the largest of any House member.
That same year, the chief of staff to former Senator Norm Coleman (R-Minn.) admitted the office had been editing Coleman's Wikipedia page, but only to "correct inaccuracies." Wikipedia co-founder Jimmy Wales looked into the matter and deemed it "a major rewrite of the article to make it more favorable."
One of many: The @congressedits account is based on @parliamentedits, a bot that tweets whenever a member of British Parliament makes a Wikipedia change. Similar accounts have sprung up to keep an eye on legislators in other countries, including Canada, France and Sweden.
Ed Summers, the creator of @congressedits, explained in a blog post why the account was about more than laughing when a congressional staffer changes the Step Up 3D page. It's a matter of open government and, potentially, a way for politicians and their offices to hold themselves more accountable.
"Imagine if our elected representatives and their staffers logged in to Wikipedia," Summers writes, "and used their knowledge of the issues and local history to help make Wikipedia better? Perhaps in the process they enter into conversation in an article's talk page, with a constituent, or political opponent and learn something from them, or perhaps compromise?"
Wouldn't that be nice?