One of the Greatest Rock Bands of Our Generation Is Set to Release a New Album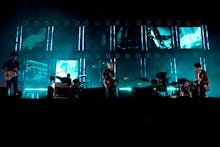 Radiohead is back.
After taking a year off, Radiohead is apparently going to start playing and recording again in the fall. Guitarist Jonny Greenwood broke the news in an interview with BBC Radio 6. "We're going to start up in September, playing, rehearsing and recording and see how it's sounding," he said.
Just what the result will sounds like, of course, is an open question. A major trend-setter and rule breaker since their formation in 1992 and their seminal 1997 album OK Computer, the band is not afraid to reinvent itself musically, changing genres and styles (and sometimes dragging rock music along with it). The band's last album, The King of Limbs, was self-released online in 2011 and garnered five Grammy nominations.
What they've been up to: Greenwood spent the year working with orchestras, an experience he said gave him more appreciation for live performance. His brother, bassist Colin Greenwood, went a different direction: He competed in a triathlon for charity.
Maybe the most prominent band member during the hiatus was frontman/genius/odd dance enthusiast Thom Yorke, who played in supergroup Atoms For Peace along with producer Nigel Godrich and Red Hot Chili Peppers bassist Flea.
What's next: Usually fans can get at least somewhat of an idea of how a new album might sound from seeing the band play live — they'll occasionally break out tracks that are still being worked on. Seeing as they haven't played together in a year, though, there's not as much to go on.
You can bet the music industry will be paying close attention, though. For the band of "No Surprises," they sure seem to have plenty.