This Metal Band Just Signed a $1.7 Million Recording Contract — And They're Only in 8th Grade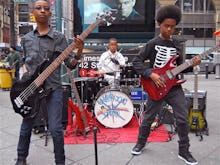 Think back to when you were 13 years old. How were you spending your summer? Sleepaway camp? On the beach? Signing a multi-million dollar record contract?
That last one sounds a bit crazy, unless you're a member of the metal band Unlocking the Truth, a trio of black 8th graders from Brooklyn who got their start busking around New York City in places like Times Square and Washington Square Park. 
And in recognition of their sheer rockness, Sony has inked a deal with guitarist Malcolm Brickhouse, bassist Alec Atkins and drummer Jarad Dawkins for a guaranteed two-album deal with the option for four more. The trio will be guaranteed a $60,000 advance on their first album and up to a $350,000 advance on their second. If Sony decides to option the six-record contract, the band could net upwards of $1.7 million. That's a lot of money for a group of kids getting ready to start high-school. 
The NY Post did point out that the band's contact is actually a bit tricky: The trio will take home around 16%-17% royalties on their sales (which is quite high), but that only comes after 250,000 records are sold, a tall task, especially in today's age of music pirating and single-downloads. For comparison, Beyconcé's last album sold just over 600,000 units. 
Nevertheless, Alan Sacks, the band's manager, told the Post that Unlocking the Truth has "a chance of becoming the new face of rock because they are unique — black artists excelling in heavy metal, a genre typically dominated by white musicians."
Besides playing New York City street corners, Unlocking the Truth has also been touring the country with the Vans Warped Tour and opening for bands like Guns 'N' Roses and Queens of the Stone Age. Watch them rip it up at this year's Coachella below.
And get to know Malcolm, Alec Atkins and Jarad in this interview: