The Best Moments From Germany's World Cup Victory Over Argentina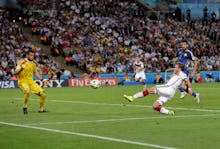 It took 112 minutes, but we have a new World Cup champion.
22-year-old Mario Götze scored the only goal of the game. The forward cradled a gorgeous cross by André Schürrle and took one touch before pounding it past Argentine goalkeeper Sergio Romero with his left foot.
Favored to win, Germany won their fourth World Cup title, their first since 1990. It marks the first time ever that a European nation won a World Cup in the Americas.
Out of the total 20 championship games, nearly half have involved either Germany or Argentina, and Sunday's game marked the third time that they have faced off against one another in the World Cup. Germany has won all three.
Underdog Argentina couldn't claim a third title after their last win in 1986. A personal upset for superstar Lionel Messi who is often in the shadow of legend Diego Maradona.
Here's how the game played out: 
First half: Germany started out with most of possessions but too many just-misses. Early on, German midfielder Christoph Kramer took a hit to the head and Bastian Schweinsteiger got a yellow card.
Eventually Kramer had to be subbed out of the game at minute 30. Argentina thought they scored with striker Gonzalo Higuain's offense but it was quickly called for offsides. 
In the second half Messi started strong with a great scoring opportunity, but aimed too wide and missed.
Oh so close.
At the end of 90 minutes, the game went on into extra time. Argentina's goal keeper, Sergio Romero made a massive save from Germany's offense early on. But Argentina missed big time when Rodrigo Palacio got so close to scoring and didn't deliver by chipping the ball too high. 
The second half of extra time on the clock. Germany's Schweinsteiger took an arm to the face that left him bloodied.
Image Credit: ABC
With just a few minutes to go in the second extra period, Germany's Mario Gotze finds space and scores by hitting it low and into the side netting of goalie Romero's far post.
Even with two more minutes added in extra time, Argentina and Messi just could not make it happen.
Image Credit: AP
It was an incredibly tight game with two great teams, but Germany is your new FIFA World Cup champion.