This Man Had the Greatest Exchange on Gay Rights With President Obama Ever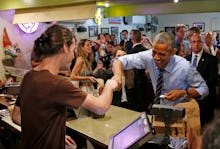 The exchange: "Equal rights for gay people!" 32-year-old comedian and cashier Daniel Rugg Webb proclaimed to President Obama as he was totalling up the president's $300 bill at Austin, Texas' Franklin Barbecue on Thursday.
"Are you gay?" Obama asked in response.
Webb didn't miss a beat, answering, "Only when I'm having sex!"
And you know what? Obama cracked up, taking a second to compose himself before saying, "Not in front of the kids!"
Then they fist-bumped. Awesome.
What Webb was thinking: The Austin Chronicle interviewed Webb, who said that he regretted not wearing a sequin shirt but says, "It was just a lucky day to be the register girl."
"As a comedian, it was cool to have a moment where I was making a sitting president laugh — over something that might be considered inappropriate is a bonus."
Webb says that the moment was particularly important to him because Gov. Rick Perry (R-Texas) is "famously anti-gay" and Texas can be an unpleasant place for LGBT people.
"We are an anti-gay state. We are a state with a whole bunch of hungry children and sick old people, and [Perry is] grandstanding on things that will get him a better election," he continued. "And it's glaringly obvious. He's kind of primitive in his social beliefs. I would like to see Rick Perry negatively influenced by any kind of attention. Even Obama laughing at something as, hopefully, acceptable as sexuality can show the difference."
"If Rick Perry would've walked in, I would have lost my job. I would've taken that old queen to town," he claimed.
What Obama was thinking: As the first U.S. president to come out in favor of gay marriage, he was probably pretty chill about it. In June, gay rights advocate Richard Socarides wrote:
"Five years ago, when the president first took office, many gay-rights activists, including me, criticized Obama for not moving quickly enough to end Don't Ask Don't Tell and to support marriage equality. Now he seems to be on a trajectory to make gay rights one of his administration's most lasting accomplishments. Obama may finally have the timing right."
Fist-bumps for everybody.