Selena Gomez Just Sent a Powerful Message That Will Inspire Young Girls Everywhere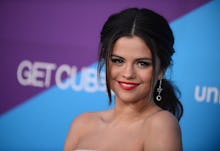 The news: Selena Gomez is no stranger to cyberbullying — the Disney star-turned-songstress has received more than her share of online abuse, especially from rabid Justin Bieber fans who sent her death threats when she dated the Canadian teen obsession. So when she saw on Instagram that one of her fans wrote a nasty comment about cancer to another, she decided to step in.
The original comment has since been deleted, but Gomez screen-capped and Instagrammed her reply to the offending girl:
"Honestly, I don't speak up much because it's simply *always* taken out of context," Gomez wrote in the caption for her Instagram. "But I don't take bullying well. I have seen too much to not say anything."
This isn't the first time that she's done this. Back in December, Gomez also played referee when one of her Instagram followers egged on another fan to commit self-harm. After seeing the bullied girl's distressed comments, Gomez posted this message:
She is setting a good standard, especially for young girls. At a time when over 15% of high school students report being cyberbullied, Gomez's decision to step in carries impact, particularly among her impressionable fans. She and fellow pop star friend Taylor Swift have been lauded in the past for using Instagram not only to engage fans, but also to send positive messages to those who are having a hard time and to step in when any nastiness arises:
By setting a positive tone among their fan communities, Gomez and Swift have become examples of what good celebrity social media engagement looks like. The fact that they actually look through fan comments might help some people feel like their voice is being heard; others may follow their idols' lead and learn to interact better with people online. While Gomez and Swift's Instagram comments might not stop cyberbullying everywhere, they can brighten a bullied fan's life for a moment — and for some, that makes a huge difference.