We Now Know How Archie Will Die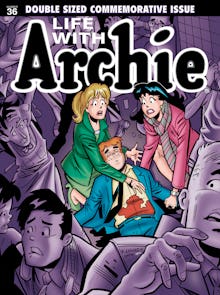 After nearly 75 years, a beloved comics mainstay is coming to an end.
Wednesday's installment of Life With Archie will feature the death of Archie Andrews at the hands of an undisclosed stalker. What's more, he'll die taking a bullet for his gay best friend Kevin Keller, a senator who is pushing for tighter gun control laws. The narrative choice is one that will not let Archie go gentle into that good night, but instead has Archie bowing out with lasting impact and a social message.
"The way in which Archie dies is everything that you would expect of Archie," Jon Goldwater, Archie Comics publisher and co-CEO, told the Associated Press. "He dies heroically. He dies selflessly. He dies in the manner that epitomizes not only the best of Riverdale but the best of all of us. It's what Archie has come to represent over the past almost 75 years."
As well as being a sad loss for fans of Archie and the Riverdale universe, the choice is brimming with social commentary. Having Archie die by gunshot while protecting a gay friend who is fighting for stricter gun control laws is a clued-in, timely message. Fiction often puts queer characters in the firing line first and foremost, so for Keller to be saved and not a martyr for the cause highlights the importance of his anti-gun stance.
"We wanted to do something that was impactful that would really resonate with the world and bring home just how important Archie is to everyone. That's how we came up with the storyline of saving Kevin. He could have saved Betty. He could have saved Veronica. We get that, but metaphorically, by saiving Kevin, a new Riverdale is born," Goldwater told the AP. 
Although Archie will not be the first comic book protagonist to bite the bullet, his death is different than, say, Peter Parker or Steve "Captain America" Rogers. Archie's death is not a publicity stunt and is not a choice the publishers can back away from. 
"Archie is not a superhero like all the rest of the comic book characters," said Goldwater. "He's human. He's a person. When you wound him, he bleeds. He knows that. If anything, I think his death is more impactful because of that. We hope by showing how something so violent can happen to Archie, that we can — in some way — learn from him." 
Rest in peace, Archie. For a 73-year-old icon, you look quite good.