33 Lyrics Proving Tom Hanks Is Secretly the Most Important Man in Hip-Hop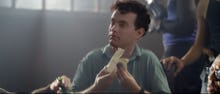 1988 was hip-hop's greatest year.
It was the year Public Enemy's It Takes A Nation of Millions To Hold Us Back brought expletives and Civil Rights commentary back to mainstream music. It was the year DJ Jazzy Jeff & The Fresh Prince's sophomore album, He's the DJ, I'm the Rapper, sold more than three million copies, before garnering the genre's first Grammy Award. It was the year the now seminal N.W.A. would bring the country's youth to their knees — and their parents to panicked tears — with their classic debut album, Straight Outta Compton. But most of all, it was the year the rap game would forever change when a hit film called Big delivered to us the genre's most cherished muse, Tom Hanks.
Tom Hanks and popular hip-hop's rise were coincidental. Big established Hanks as a massive box office draw throughout the '90s and 2000s and earned him his first Oscar nomination. Around the time hip-hop got its foothold in mass culture, Hanks became that culture's leading man. With his boyish looks, back-to-back Oscar wins in 1993 and '94 (one of two actors to win twice in a row in the Best Actor category) and massive street cred for his breakout performances of "Jimmy Jimmy Cocoa Puffs" and the unforgettable Dan Akroyd-collaboration "City of Crime," Hanks somehow wound up as a persistent presence in American hip-hop.
That's partially because many of his characters became cultural touchstones. Hanks' iconic character repertoire includes an array of good-hearted and definitively American icons: Forrest Gump, a boy trapped in a man's body, Santa Claus, Jim Lovell, Captain Richard Phillips and a toy cowboy. As rappers moved from niche to mass audiences over the last few decades, Hanks references afforded mass appeal and the opportunity for some not-too-subtle punning.
Among the many things hip-hop and Nora Ephron have in common, Tom Hanks is often the least acknowledged. With Frank Ocean's hit Grammy-performed 2013 hit "Forrest Gump" and Buckwheat Groat's recently viral gangsta rap video, "Tom Hanks," it's time we finally plumbed the depths of Hanks' weird hip-hop influence. Here are 33 of the greatest Hanks lines in rap.
1. "Hey Mama" by Kanye West
"Forrest Gump's momma said, life was like a box of chocolates
2. "Womyn" by Heems
"Women like to watch You've Got Mail with Meg Ryan and Tom Hanks 
3. "All That (Lady)" by Game ft. Lil Wayne, Big Sean, & Jeremih
"She told me 'bout her ex man, her old boy stories
4. "Clique / Fuckin' Problem" by Tyga
"Competition's small so I live big like Tom Hanks
5. "Fresher Than Ever" by Young Money ft. Gudda Gudda, Jae Milz, Flow, Mack Maine, & Birdman
"Young Mack my driver but I'm Captain Phillips, niggas
6. "Walk Alone" by The Roots ft. Truck North, P.O.R.N., & Dice Raw
"The longest walk I'll probably ever be on
7. "One Two Shit" by A Tribe Called Quest
"Go ask the last MC what happened when he said battle
8. "Look at Me" by Lil' Wayne
"Four was mild but five is so wild
9. "Hollis to Hollywood" by LL Cool J
"That's when LL come in
10. "French" by Tyler the Creator
"This bitch knew dick like Bubba knew shrimp, yeah."
11. "Battle Scars" by Lupe Fiasco & Guy Sebastian
"Holding on another lover's phone sends you back into the zone
12. "A Million in the Morning" by Jay Electronica
"Am I conscious or dreaming
13. "Maaad Crew" by Method Man & Redman
"I'm like open wounds, pour the iodine in
14. "XXL Cypher" by Kendrick Lamar ft. Yelawolf, Lil B, Cyhi, & The Prynce
"Treat him like a welterweight and stuff him in some trunks
15. "Nightmares" by Clipse
"And one day, they may even catch up with me man
16. "When You See Love" by Dom Kennedy
"I'm in a league of my own, Tom Hanks."
17. "Phat Rabbit" by Ludacris
"Cause I got mo' diiick, than a lil' bit and time flies, when I'm havin fun
18. "Xplosion" by Outkast
"Now won't that make us all fools
19. "Tapout" by Rich Gang
"Six inch, pumps, play with his balls, dunks
20. "Deep Space 9mm" by El-P
"Dissolve into the syncopated fragments of vinyl, splashed on loose leaf
21. "3 Minute Rule" by the Beastie Boys
"I stay up all night, I go to sleep watching Dragnet
22. "Livin' a Movie" by Kanye West
"Suck like ol' girl got booed at Apollo 13
23. "Make it Big" by 9th Wonder ft. Khrysis
"Like Tom Hanks nigga I'mma make it big
24. "Expensive Pens" by Action Bronson
"I'm fully blown like Tom Hanks in Philadelphia
25. "Game Got Switched" by Ludacris
"Chilin' in the gump with no trace of Tom Hanks,
26. "Ride Slow" by Abu Soul
"The screw give me drive like a flat-head, every fill up
27. "Jack Sparrow" by The Lonely Island ft. Michael Bolton
"Life is a box of chocolates and my name is Forrest Gump
28. "Dance in the Sand" by Shwayze
"Damn you fine
29. "Put Up or Shut Up" by Gang Starr
"Ain't no way, so come, make my day
30. "Lite It Up" by Lil Wayne
"Louisiana, I'm from that swamp
31. "Speakers on Blast" by Game ft. E-40 & Big Boi
"Switch it up, heat it up, speed it up, that means I'm gone
32. "Mula" by Big Sean ft. French Montana
"I'm on a secluded island, swear it feel like Castaway
33. "Forrest Gump" by Frank Ocean
"Forrest Gump you run my mind boy."