One Company Is Exporting Water Straight Out of Drought-Stricken California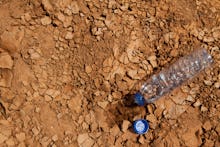 The news: California's devastating three-year drought continues, making the state likely to approach its driest period in 400 years. Californians are urged not to waste water and the state may be forced to fine residents who waste water outdoors. 
But one company is still taking a nice, cold gulp of the state's dwindling water reserves: Nestlé is bottling water in the midst of California's drought.
The Desert Sun reports that amidst the worst drought in memory, a Nestlé bottling plant located on the reservation of the Morongo Band of Mission Indians is exempt from local water agencies and doesn't have to reveal how much water it is pulling out of the ground. It produces large quantities of Arrowhead spring water as well as purified water sold as Nestlé Pure Life. The company has refused tours of the plant. The water agency estimates it is extracting an average of 244 million gallons a year, and separate reports filed by the Morongo tribe show it pumped about 200 million gallons in 2013 — enough for 400 homes.
That's a lot of water. "Surface water is so rare and the biological communities around these oases are so unique that these kinds of bottling plants in the desert should give us pause," water expert and Pacific Institute head Peter Gleick told the Desert Sun. "If they weren't pumping, the volume that they're taking out would be going into either recharging groundwater or providing some surface flows."
"The reason this particular plant is of special concern is precisely because water is so scarce in the basin. If you had the same bottling plant in a water-rich area, then the amount of water bottled and diverted would be a small fraction of the total water available," he continued. "But this is a desert ecosystem. Surface water in the desert is exceedingly rare and has a much higher environmental value than the same amount of water somewhere else."
Nestlé claims the facility is sustainable, but Salon's Lindsay Abrams notes that it actually takes about 1.39 liters of water to produce a liter of bottled water, thus making the process intrinsically wasteful (and that doesn't include the cost of packaging). In 2013, Death and Taxes' Robyn Pennacchia called Nestlé a "super, super evil company. Like, really fucking evil" after CEO Peter Brabeck aggressively argued that "access to water should not be a public right" and demanded governments privatize all water supplies. Looks like he was a little ahead of the curve.