This Is the Song of the Summer — But You Won't Hear It on the Radio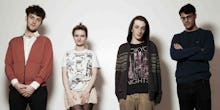 It's mid-July, and Americans have chosen their song of the summer (although some are demanding a recount). Iggy Azalea's "Fancy" is still at Number 1 on the charts, and we'll all be begging for mercy come September when it's been played one (thousand) too many times. 
But this year it could have been different. This year, there is one song that has set records across the world. This year, our song of the summer could have been Clean Bandit's "Rather Be (ft. Jess Glynne)."
It seems improbable that an electro-classical crossover could be as appealing as "Rather Be," but the song has caught fire across the world. Most everywhere, in fact, but America.
The four-piece electronic group formed in Cambridge, U.K., in 2009, releasing a handful of singles to minor chart success in the years leading up to "Rather Be," but there's no question that this is their biggest hit. Topping pop and dance charts in 17 countries and earning platinum sales in six, "Rather Be" quickly established itself as a global phenomenon upon its initial release. In the United Kingdom, "Rather Be" broke Spotify's record for the most streams in a single week (1.09 million), dethroning last summer's disco/pop juggernaut "Get Lucky" by Daft Punk and Pharrell. The music video took off too, clocking more than 83 million views in the few months after its release.
But America seems to be the only country immune to the song's charms. "Rather Be" is Clean Bandit's biggest hit of their five-year career and the fourth single from their recently U.S.-released album New Eyes. But in the U.S., it peaked at No. 51 on the Billboard Hot 100 after a couple months and never hit the platinum sales mark. Instead, this bonafide pop smash has been relegated to alternative radio, picking up the occasional spin on satellite pop stations like XM's now-defunct 20 on 20 and SiriusXM Hits 1. 
It makes no sense. Sonically, "Rather Be" is summer pop gold. Straddling the line between pop and dance, it rides the EDM wave that has defined so many of this year's hits while also delivering an epic sing-along chorus. At 121 BPM and clocking in at just under four minutes, "Rather Be" shares more than a few essential traits with the top-performing summer songs of decades past. Plus, just try listening to it without dancing.
In short, Clean Bandit got robbed. There's still a chance that "Rather Be" could have slow-burn success and become our first Song of the Fall (it's about time we made that happen anyway), or could even gain enough popularity to soundtrack next summer's poolside parties — after all, several of this year's summer songs were released more than a year ago. But the next time you hear "I'm so fancy / You already know," you can know there's somewhere else you'd rather be.