This Artist Recreated His Childhood Doodles as Digital Illustrations 20 Years Later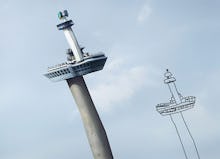 For most of us, our childhood drawings have long been relegated to the attic to collect dust or to the trash years ago. But for Dutch artist Telmo Pieper, his old pictures have become fodder and inspiration for his creative pursuits.
In his series "Kiddie Arts," Pieper took his old doodles and used Photoshop to digitally recreate them in a realistic style. While the pictures still look bizarre and fantastical, it's fascinating to see the two versions — one by a child and one by an adult — side by side.
"Digital painted creatures and stuff based on my own childhood drawings. I designed these creatures at the age of 4 and now reincarnated them with digital painting," Pieper writes in his introduction to the series.
And it looks like all of his doodling paid off. Pieper now works in Rotterdam as part of the muralist duo Telmo Miel and many of their works are influenced by abstract and surrealist movements. Perhaps Pieper's uniquely proportioned childhood drawings were a foreshadowing of his future professional style.
Check out Pieper's digital paintings below:
Image Credit (all): Telmo Pieper
1.
2.
3.
4.
5.
6.
7.
8.
9.
10.